Holidays are filled with family, friends, various events, and food. It is also the time of year when people are vying for your wallet share. Sometimes it is difficult to find the right gift for the folks on your list. Gift cards were once the way to go, as they require no thought or knowledge of the receiver. Everyone likes money or the ability to spend where they wish. But is that the way to make the lasting memory for someone. Perhaps these steps below will help you find the perfect gift and create that ideal, lasting impression of your 2018 thoughtfulness.
Know your Recipient
I have all types of recipients on my list young, old, busy, need, male, female, well-loved, and family. Not all of these people are the same, nor should they be treated in that manner. Could gift cards work, of course, but is it memorable? For example, I still have the handmade Christmas ornament my child gave me when they were only 8 years old, (sigh). Conversely, I found a forgotten gift card from an unremembered person. Is that what will happen to the gift cards you will give?  If so (yawn), how underwhelming.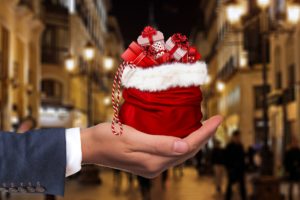 Youth
The age appropriate gift for the young'uns on my list typically help them be creative and expand themselves. Be it the artsy crafty item, puzzle par excellence, or some other mind-expanding gift is where I go. Sometimes a book will help achieve that goal and if you read to them as well, it will last a lifetime for them.
Busy
A lot of professionals I know are wrapped up in careers, traveling, and constantly juggling a dozen things. Perhaps an invite out for holiday cheer, chance to take in a show, or simply join for a cup of coffee. No pressure, no demands, and a reminder that you are a good friend who cares. It could make the difference, but coordinating it make be tricky.
Needy
Of course, needy is a broad term. In my case it is for those on my list who struggle to make ends meet, often giving their awe to provide a gift to someone else. These can be the ones who delight in a meal out, groceries, and extra gifts for their children that might be more practical, so they can get that special Santa surprise. Practical might mean clothing essentials, shoes, and even a warm coat. I do try to find a helping hands receiver whom I will likely never meet. I also think that when time permits volunteering in a local food kitchen reminds me of how lucky I am for the chance to give back.
Male or Female
There are people on my list whom I adore.  We have typically crossed paths more than once in a given year and I appreciate their touching my life. It could be their humor, a kindness I saw exhibited to someone else, or the way their told a story about an event in their life. Trying to find the right gift might simply be a book or an audible that reflects their enthusiasm for life. It might be a festive shirt that lights up for the season, or even special chocolate. I am here to tell you that chocolate is not gender specific. I have friends who even delight in my homemade choclate snacks during the holidays. Personal and one of a kind usually resonates well.
Well-loved and Family
Those whom I love, I see as family. I enjoy giving them something unique and special. It doesn't need to cost anything, but of course we all appreciate those sparkly baubles we receive now and again. Time seems to be the greatest gift to this group on my list. Time together cooking, building a puzzle, enjoying a walk, exploring a gallery, or a dozen other moments of time.
Gifts can be modest in price, yet rich in sentiment. Time spent with any of the people on your list this holiday season and beyond typically know your heart and appreciate you as a person. If they don't register on at least your mutual respect gauge, then why are they on your list at all.  Season's greetings.
Related Content: