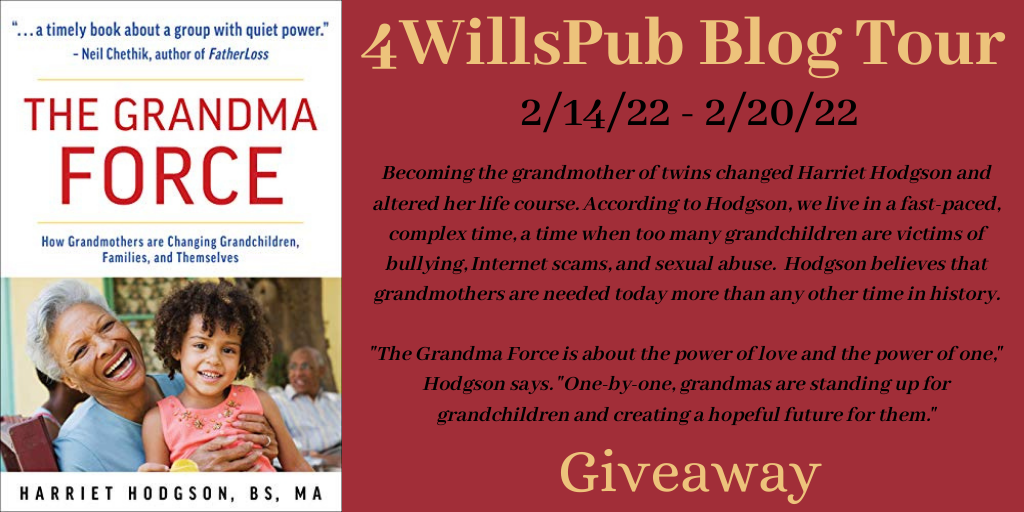 Hello, thank you for dropping in to check out this delightful tour for Harriet. I enjoy her remarkable writing perspective and inspiration. The Grandma Force is our focus today. Sit back and enjoy the blog. Add a comment for a chance at a free giveaway.
Book Blurb:
Becoming the grandmother of twins changed Harriet Hodgson and altered her life course. According to Hodgson, we live in a fast-paced, complex time, a time when too many grandchildren are victims of bullying, Internet scams, and sexual abuse. Hodgson believes that grandmothers are needed today more than any other time in history.
"Grandmas can't be passive," she declares. "Every grandma has the power to protect and guide her grandchildren and needs to tap this power."
This narrative weaves Hodgson's personal story with research findings. It's packed with ideas for helping grandchildren. Hodgson's age, child development degree, life experience, teaching experience, witness to history, and extensive research converge to make this an inspiring read. Working individually and together, grandmas are changing the world.
"The Grandma Force is about the power of love and the power of one," Hodgson says. "One-by-one, grandmas are standing up for grandchildren and creating a hopeful future for them."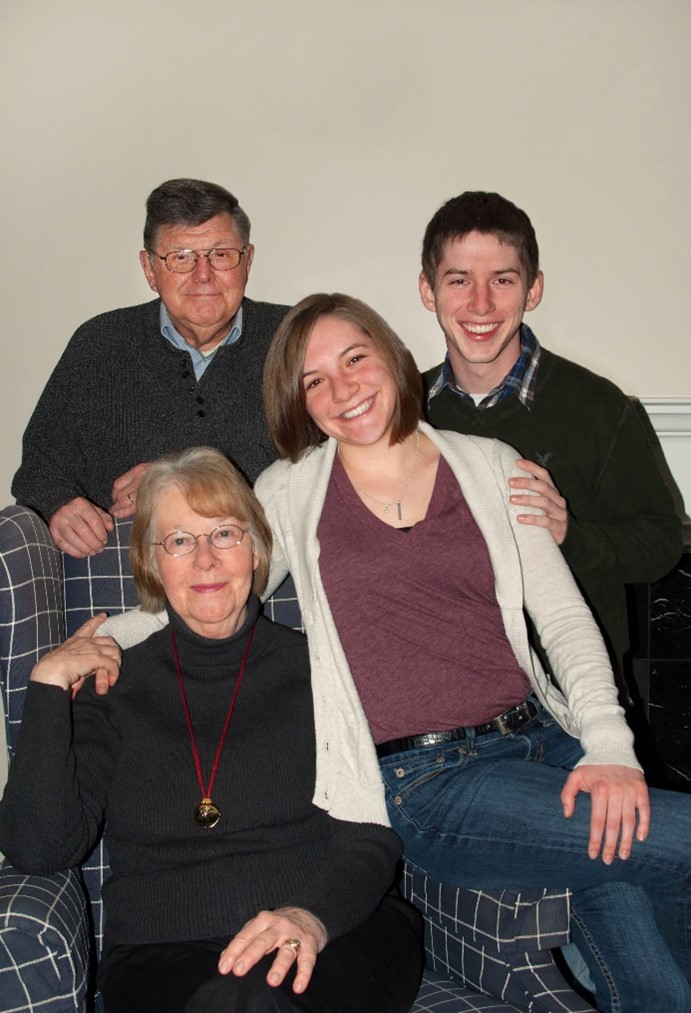 Excerpt from The Grandma Force
Grandmas have so much to share. You may decide to organize a group of five grandmas and work on finding solutions for community problems. Five dedicated grandmas can make a difference. Twenty-five grandmas can make a big difference; 125 grandmas can make a huge difference. Best-selling novelist Frederik Backman compares having a grandmother to having a personal army. The army is always ready, he says, even if a grandchild is wrong, and especially if a grandchild is wrong. "A grandmother is both a sword and a shield," he writes.
You can be your grandchild's sword and shield. Although the Grandma Force doesn't have a formal organization with dues or a logo or a website, we have each other. And this is our strength. Singly and together, grandmas can love, protect, and nurture grandchildren around the world. Grandmas are needed more than ever, and we need you in the Grandma Force. There is no better time. There is no greater calling. We are grandmas!
Author Bio:
Harriet Hodgson has been making books since she was eight years old. In her 43-year career as a freelancer, she has written 44 books and thousands of print/internet articles. Major publishers, such as Warner Books, John Wiley & Sons, and Hazelden, have published her work. Harriet loves writing so much she writes in her sleep.
Find and follow Harriet in the following spots
TWITTER – https://twitter.com/healthmn1
FACEBOOK – https://www.facebook.com/harriet.hodgson.7
LINKEDIN – https://www.linkedin.com/in/harriet-hodgson-27a2178/
INSTAGRAM – https://www.instagram.com/writerharriethodgson/
OPEN TO HOPE – https://www.opentohope.com/author/hhodgson/
Purchase Links:
Amazon US eBook https://amzn.to/2X1dr4c
Amazon US Paperback
IndieBound paperback
IBooks https://apple.com/2JLjEOx
To follow along with the rest of the tour, please visit the author's tour page on the 4WillsPublishing site. If you'd like to book your own blog tour and have your book promoted in similar grand fashion, please click HERE. Thanks for supporting this author and her work!

Please leave a comment below for the GIVEAWAY: (2) $5 Amazon gift cards
Related Content: