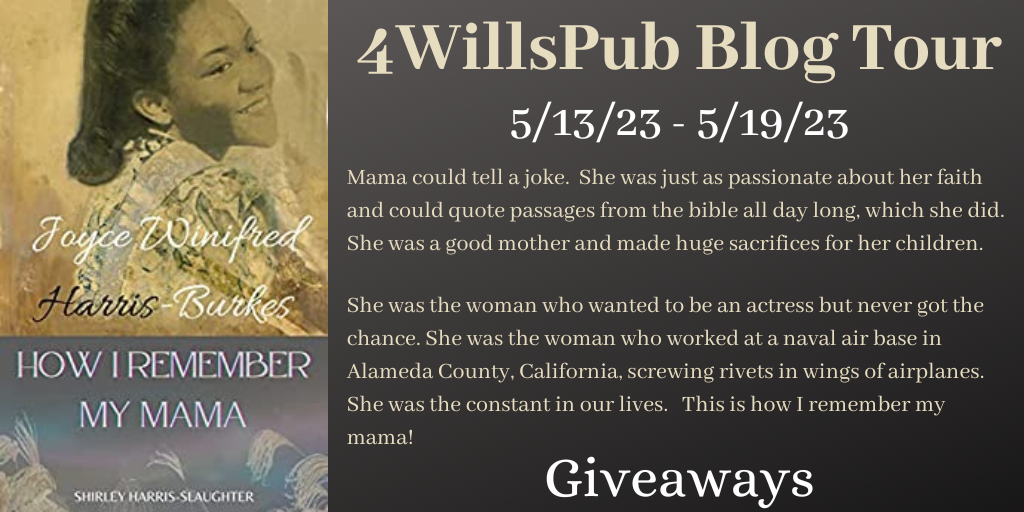 SATURDAY, MAY 13, 2023
Mother's Day starts tomorrow, Sunday, May 14, 2023.
Hello Everyone and Welcome to the first day of my Blog Tour …
Day 1 Giveaway
Free Ebook Download
Day 1 GIVEAWAY ONLY:
Joyce Winifred Harris-Burkes: HOW I REMEMBER MY MAMA
OTHER GIVEAWAYS:
(2) $5 Amazon Gift Cards
(5) Tickets into RRBC's WC&BE Raffle for (7) $100 Amazon Gift Card Gift Baskets
BLOG POST:
Joyce Winifred Harris-Burkes: HOW I REMEMBER MY MAMA
INTRODUCTION
The contents of this book include my recollections of growing up with an amazing woman, my mama. Included, you will find a collection of short stories and poems written by my mama, which shares her thoughts on the social problems of those times. She talks about her pain in dealing with her own mortality during an unexpected illness, and she offers her perspective and reflection on life in general.
Aside from writing, part of my mama's legacy includes her grandchildren and their children. What is depicted is the section entitled, THE APPLE.
Joyce Winifred Harris-Burkes was born in Depew, Oklahoma, May 26, 1925. She completed her high school education and two years of training at Lewis Business College. She was a member of Our Lady of Victory/Presentation Court 189, while a member of Our Lady of Victory Church. She passed away on August 30, 1991.
This book is a dedication to her memory and a tribute to her creativity as a writer, poet, speaker, amazing storyteller, and more than anything else, loving mother.
I have always had the idea to write a story about my mama, but I never got around to it. Being a member of the RAVE REVIEWS BOOK CLUB is what gave me the push to get it done. My mama was 67 years old when she passed, and it was too soon for her to go. She never got to finish living out her dreams, so I am doing it for her.
"Mama, this book is dedicated to you. Farewell, and I will see you soon."
~Shirley Harris-Slaughter
Please leave a comment below and don't forget to visit the other blog tours. Thank you so much for stopping by today.
BOOK BLURB:
Mama could tell a joke. Next thing you know, you are rolling on the floor from one of them. She loved to play the lottery and religiously purchased tickets every chance she got. If you fail to buy her tickets when she asks you, she will tell you that was the winning number … "If you had done what I asked, I would have won." It was classic!

She was just as passionate about her faith and could quote passages from the bible all day long, which she did. She was a good mother and made huge sacrifices for her children.

She was the woman who wanted to be an actress but never got the chance. She was the woman who worked at a naval air base in Alameda County, California, screwing rivets in wings of airplanes. They were called "Rosie the Riveter" during World War II.

She was the constant in our lives.

This is how I remember my mama!
AUTHOR BIO: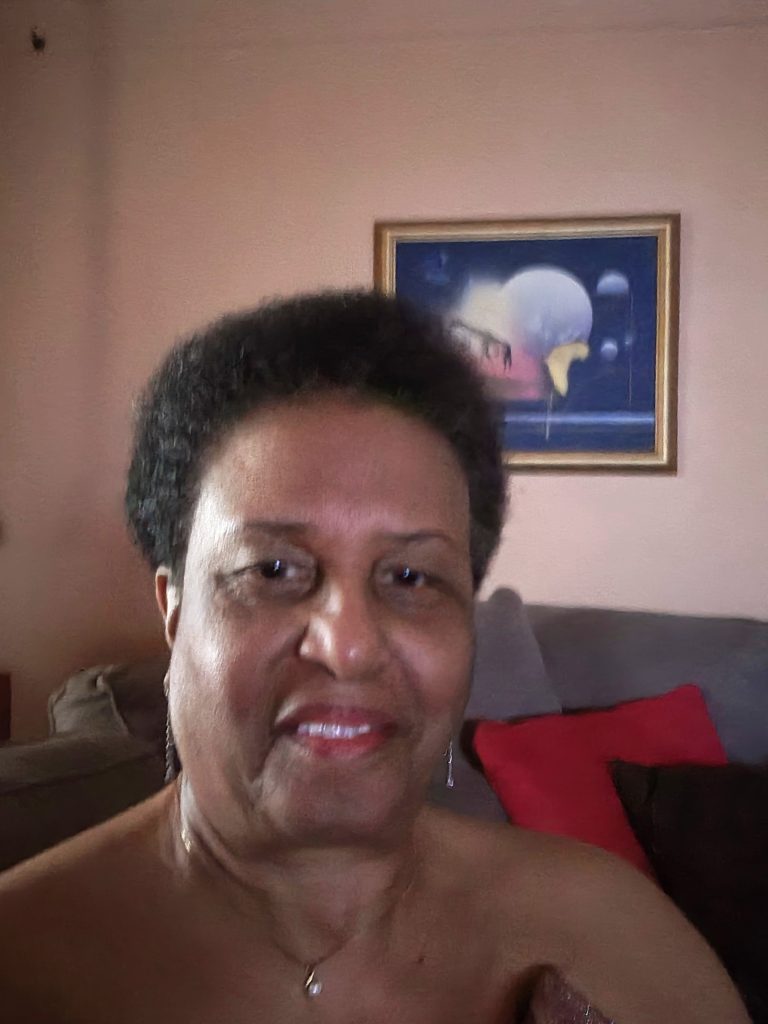 Shirley Harris-Slaughter is the author of Our Lady of Victory, the Saga of an African-American Catholic Community which was written to address a need to preserve Catholic history in her local community. She mentored four freshman girls at the local middle school in the Winning Futures Mentor Program. She is active in her church and Rave Reviews Book Club a virtual book club community where she has added another biography and fiction to her repertoire. She is married to Langston and is a Michigan Native.
And now, Slaughter has written a memoir about her mother, Joyce Winifred Harris-Burkes: How I Remember My Mama. It talks about memories regarding her life, and her works. The theme is about how the apple doesn't fall too far from the tree. Slaughter is an activist just like her mother.
Please make sure you leave a comment to qualify for giveaways.
SOCIAL MEDIA LINKS:
Twitter: @sharrislaughter
Facebook: Shirley Slaughter
Websites:
Shirley Harris-Slaughter
Remember Our Lady of Victory
AMAZON BOOK PURCHASE LINKS:
Joyce Winifred Harris-Burkes: HOW I REMEMBER MY MAMA
Our Lady of Victory, the Saga of an African-American Catholic Community
Ronald L. Powell: Missing in Action
Crazy! Hot! And Living On The Edge!!
A CITIZEN'S GROUP IN ACTION: Saving a Train Station
To follow along with the rest of the tour, please visit the author's tour page on the 4WillsPublishing site. If you'd like to schedule your own blog tour and have your book promoted in similar grand fashion, please click HERE. Thanks for supporting this author and her work!

Related Content: