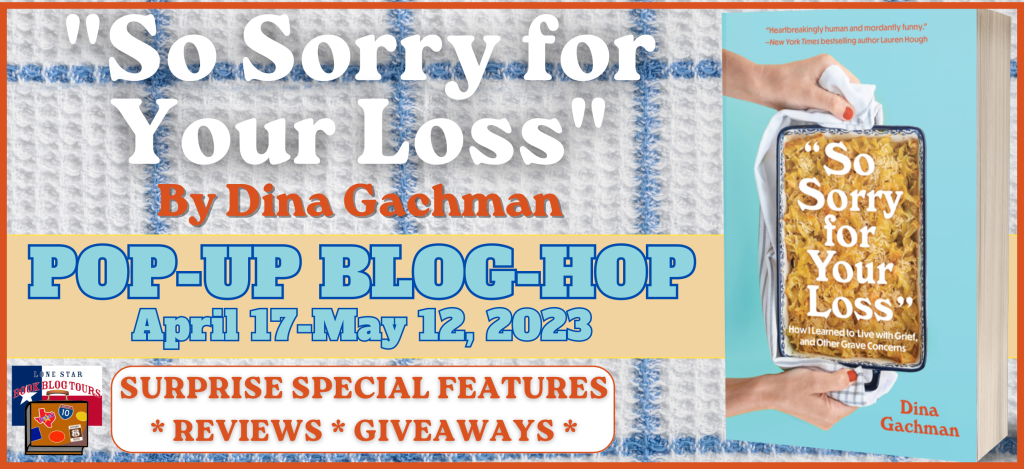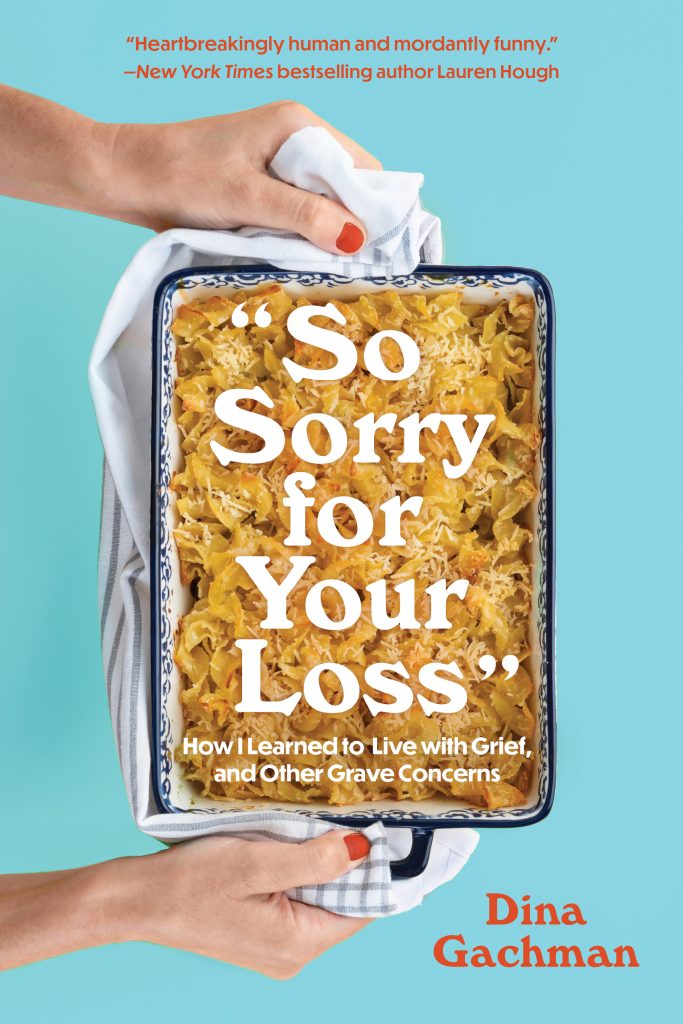 A heartfelt exploration about what it means to process grief, by a bestselling author and journalist whose experience with two devastating losses inspired her to bring comfort and understanding to others.

Since losing her mother to cancer in 2018 and her sister to alcoholism less than three years later, author and journalist Dina Gachman has dedicated herself to understanding what it means to grieve, healing after loss, and the ways we stay connected to those we miss. Through a mix of personal storytelling, reporting, and insight from experts and even moments of humor, Gachman gives readers a fresh take on grief and bereavement—whether the loss is a family member, beloved pet, or a romantic relationship. No one wants to join the grief club, since membership comes with zero perks, but So Sorry for Your Loss will make that initiation just a little less painful.

In the spirit of Elizabeth Kubler Ross books like On Grief and Grieving, or C.S. Lewis's A Grief Observed, So Sorry for Your Loss is the perfect gift for someone who is grieving. With her blend of personal experiences, expert advice, and just a little bit of humor, Gachman has provided a compassionate and compelling resource for anyone looking for grief books.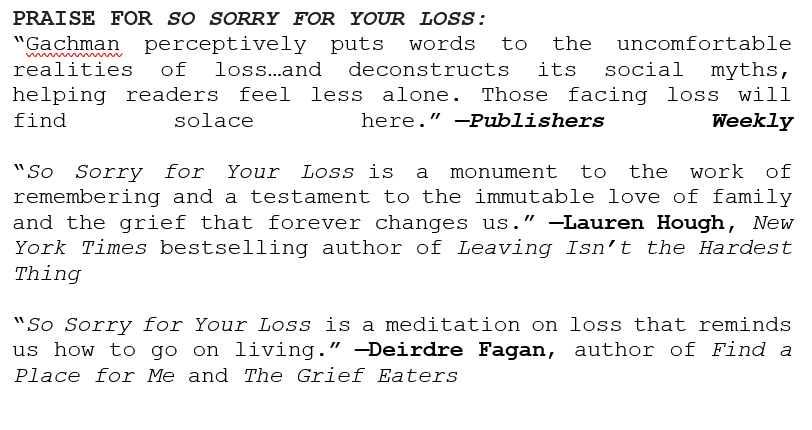 CLICK TO PURCHASE FROM:
Amazon * Barnes & Noble * Bookshop



This book deals with heartbreak and loss, which too many of us try to avoid or ignore. Dina Gachman is the author and narrator of her journey through losing two dear family members, her mother and sister. Having faced the deaths of too many family members and friends, I found it intense, relatable, and cathartic. The research Ms. Gachman conducted to find her path provided proof points and a place for people facing the same struggle to learn more. It was insightful to dissect ambiguous loss and how it plays into one's emotions. Most readers will find elements to help them understand or consider how they relate to death.
Her upbringing, with deeply instilled Southern manners, made me chuckle and tear up. Traditions can make one avoid, embrace, or crumble under feelings. Dina peels back the layers of her soul and shares them with the world. It makes it one of the bravest real stories in my library. Grieving is not a one-size-fits-all, yet it lurks in our lives.
Dian Gachman did a fantastic job in the narration of her story. The delivery is crisp and professional, with masterful pauses and intonations. There was no faltering or meltdowns to distract listeners. The emotions she brought out in me as a listener were because of the relatable memories she pulled from my mind. So Sorry for Your Loss is a book everyone should read or listen to at some point to help them on their grieving journey or prepare them for the inevitable love and loss of life.

Dina Gachman is a Pulitzer Center Grantee and a frequent contributor to the New York Times, Vox, Texas Monthly, and more. She's a New York Times bestselling ghostwriter, and the author of Brokenomics: 50 Ways to Live the Dream on a Dime. She lives near Austin, Texas, with her husband and son. Photo credit Jessica Comiskey.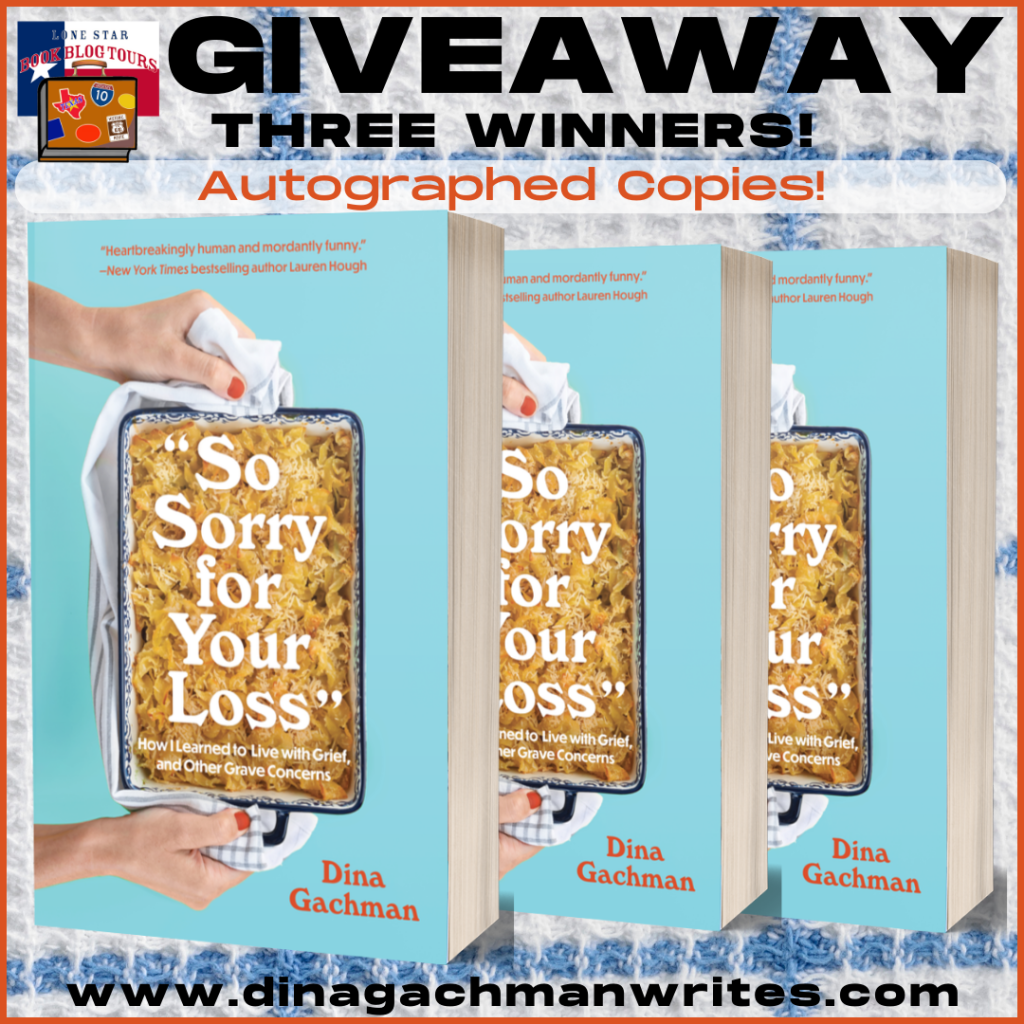 a Rafflecopter giveaway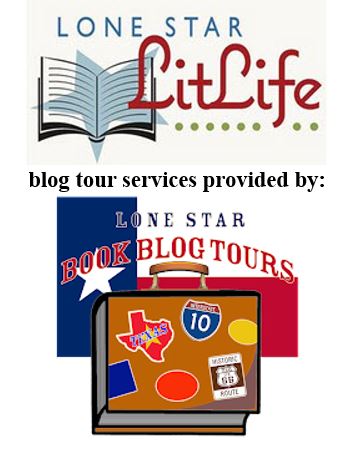 Related Content: