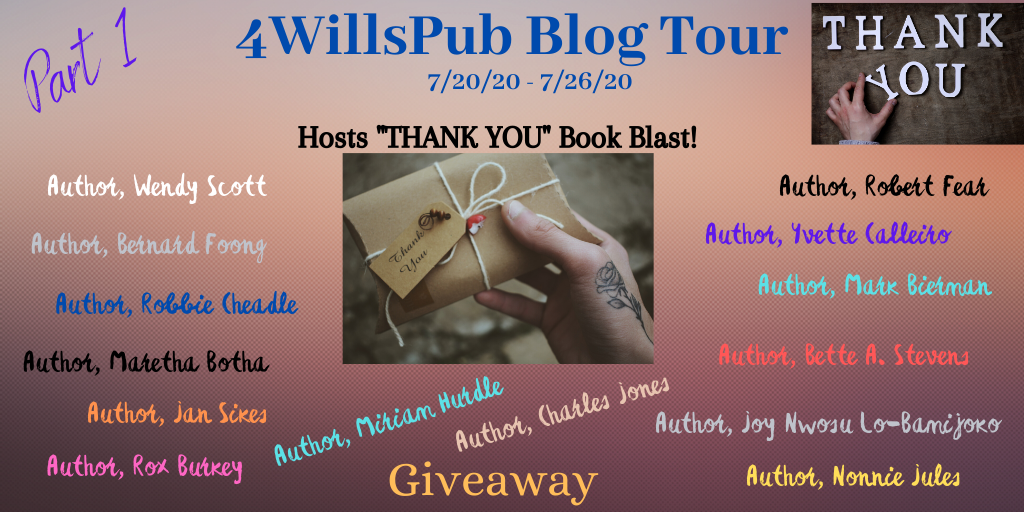 Welcome all! What a treat to have Wendy Scott as the featured author for today's Thank You, Hosts tour. So glad you stopped by.
GIVEAWAY
(1) 5-Day Blog Tour to promote your book!
Author Wendy Jayne delivers HEXED: A PURR-FECT CATASTROPHE
A year ago, an unknown assailant heart-hexed Cassidy.
Covertly, she's used her witches' powers seeking a counter spell, but to no avail.
The year of enforced celibacy is grating on her sexual nerves. Cassidy's situation worsens when she falls for the very sexy warlock, Hunter Rutherford, but must keep him at arm's length.
Sparks fly when they kiss, but these sparks are the type that burn.
The only way they'll be able to consummate their relationship is by finding who cast the hex and convincing them to remove the curse.
About Wendy Jayne Scott
Wendy Scott has a New Zealand Certificate in Science (Chemistry), which allows her to dabble with fuming potions and strange substances, satisfying her inner witch. Wendy writes short stories, fantasy, and children's novels. One of the creeds she lives by is to always – Live a life less ordinary!
SOCIAL MEDIA LINKS:
https://twitter.com/WendyJayneScott/https://www.facebook.com/AuthorWendyScott/

Thank you for dropping in to support this author today along the 4WillsPub "THANK YOU, HOSTS" Blog Tour! To follow along with the rest of the tour as we show appreciation of these bloggers for all their support in supporting our books, please visit the main tour page for this event! There's another book and author on tour today, so do get by to support them, as well! Remember, you could win a (5) Day Blog Tour of your own to promote any of your books by simply leaving a comment below!

Related Content: