A secluded rooms-for-rent is available in the forest region of Northern Michigan on the edge of Lake Superior, in the home of Arnold and his mother, Mrs. Spivey. The closest small town has a couple of bars and a cast of locals ready to speculate on anything. While authorities are searching for clues after a woman's skull is discovered a visitor to the area, Olivia ends up missing. Worried, Rachel takes up the search beginning in this town to find her sister, Olivia, and ends up finding so much more. This story is a terrific way to get scared from head to toe.
James Nelson takes you on a terrifying, gripping trail to solving the murder that begin with the bears in the forest uncovering a skull. Secrets and historical events are peeled back layer by creepy layer making you listen until the end. The author does a fabulous job with the full complement of colorful people is characterized in full detail enriched by the narrator, Jack de Golia. He makes it easy to find one or two of the characters to latch onto. I was fascinated with the shift in Tommy's attitude as he adapts to the situations of his making and justifies his behavior as he tries to win trust back from Olivia. I loathed Arnold with his corrupted psyche, yet I was appalled to realize he could easily be anyone's neighbor.
I enjoyed this masterful storyteller who uses these multiple threads that weave such a persuasive tale with various suspects and numerous relationships making me unable to stop until the unsettling end. Some portions were expected while others took me off-guard. It is worth the listen to see if you can figure out the culprit.
Jack de Golia voiced a compelling cadence with his narration that allowed me to close my eyes and see the characters in my mind. Skilled at the voice transitions as he moved from one character to another showed the depth of his voice acting ability, especially with the localized accents, though a bit inconsistent with the females. The intonations were aligned with the story as Jack takes the listener through the well-written story. Definitely an established, talented voice actor who emphasizes the depth of the story and punctuates the character relationships. There were no issues with the production or quality of this audiobook.

This audiobook was provided for review by the author.

About the Author – James R. Nelson –
James R. Nelson was raised in Michigan's remote Upper Peninsula. The solitude of living in the woods helped him develop a love of reading and an interest in authors and writing. He graduated from Western Michigan University with a Bachelor of Science degree and then went on to obtain a Master's Degree in Education. He is a board member of the Brevard Author's Society, a member of The Space Coast Writer's Guild, two writing groups, and teaches a class – How To Write Your First Novel.

His other novels include-
The Stephen Moorehouse Mystery Collection
The Archie Archibald Private Detective Series
The Maze at Four Chimneys
The Pilot
Peacock Redux and Other Short Stories
Unsafe Harbor


About the Narrator – Jack de Golia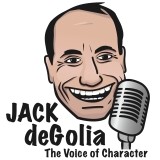 A veteran audiobook narrator, e-learning voice, video game actor, and storyteller: Jack will give you a winning, ahead-of-schedule voice work for audiobooks, e-learning, political ads, cartoons, commercials and videogames, and anything involving character voices. With a PR & stage-acting career spanning four decades, Jack brings a seasoned and always fresh approach to voiceover work. It's been said he has the voice of "every man's man." While Jack is based in Las Vegas, his studio lets him work all over the world as a male voice actor.
Related Content: