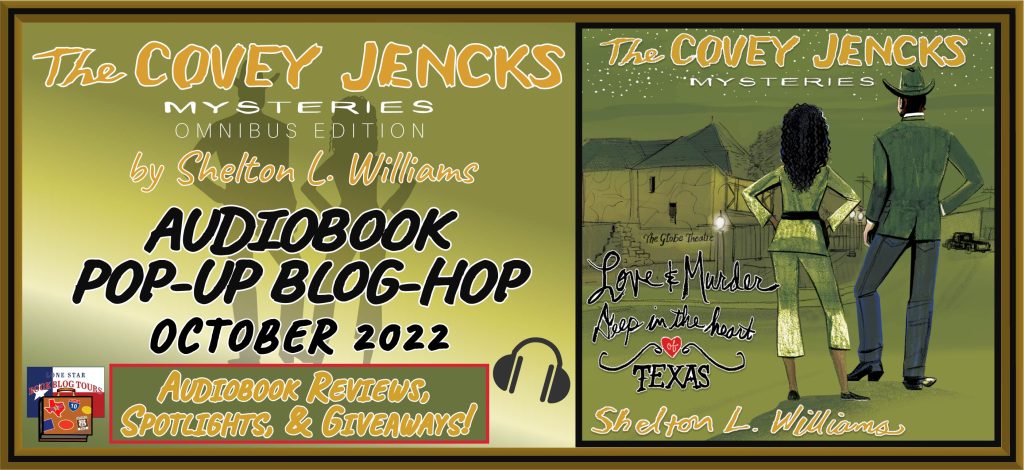 SCROLL DOWN FOR GIVEAWAY!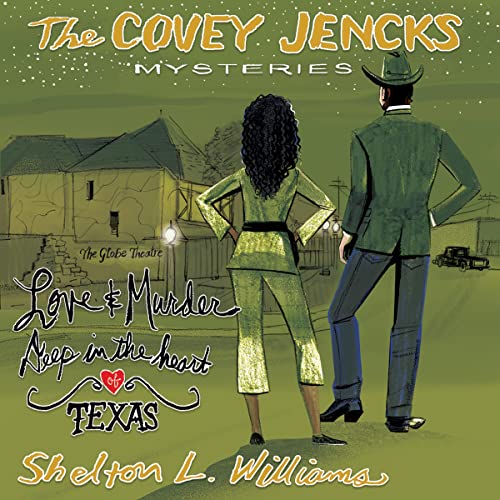 Shelton Williams's book The Covey Jencks Mysteries: Love and Murder Deep in the Heart of Texas is more than a collection of mysterious tales of murder and investigation. By bringing to life these characters, the author has highlighted the global issues of racism, drug abuse, political extremism, and women trafficking.
In the midst of it all is our protagonist, hell-bent on finding out what secrets he may find out if he stepped into the dark shadow of Odessa.
This omnibus edition of the Covey Jencks Mysteries includes newly edited versions of Covey Jencks, Covey and JayJay Get Educated, and The Chinese Murder of Edward Watts. It also includes a new preface from the author and foreword by Charles E. Morrison.
CLICK TO PURCHASE!
Audiobook
Paperback
| Amazon | Author's Website |
| Kindle |



Covey Jencks and his better half, Jay Jay, are an unlikely couple I want to meet and talk with over dinner. Covey a white Texan, a high school football legend, an attorney, and a loyal friend who asks questions and fascinatingly delivers results. His previous acquaintances rounded out his support team. Imagine leaving a lucrative law practice in Washington, D.C., and returning to Odessa, Texas, to establish a law practice from scratch.
Jay Jay Qualls, a black Texan, well-educated, self-sufficient hard worker, and actress, knows what she deserves and is unwilling to settle for anything less. She provides a powerful viewpoint for Covey that creates a sense of balance for the pair. The 'power couple' title, they earned in a press comment, illustrated the strong relationship built on honesty, communication, and deep-seated compassion for one another and others. Their solid foundation unites them through racial turmoil and assumptions that allow them to win because of their multiple viewpoints of each situation they investigate.
The descriptions of the towns, times, attitudes, and problems reflect Texas, both good and bad. There was nothing sugar-coated with the realism delivered in the three mysteries. Humor, mystery, intrigue, and outlandish characters make each of the three tales worth every second. I learned a bit about the history of West Texas at a level I'd not previously known, though I lived in Texas during these times. The pacing of the stories, peeling back the layers of the clues, and putting the puzzle together was engaging. Well-done audiobooks are perfect for long drives, with this collection going to the top of the great fun ones.
Narrator Stephen L. Lookadoo, Jr. delivered a delightful rendition of this trio of stories. The voices were consistent with spot-on inflection points every step of the way. I found the action-packed stories entertaining due in part to the excellent delivery by the talented narrator. I heartily recommend these stories for lovers of mysteries, with a great foundation of Texas. Well done Shelton Williams.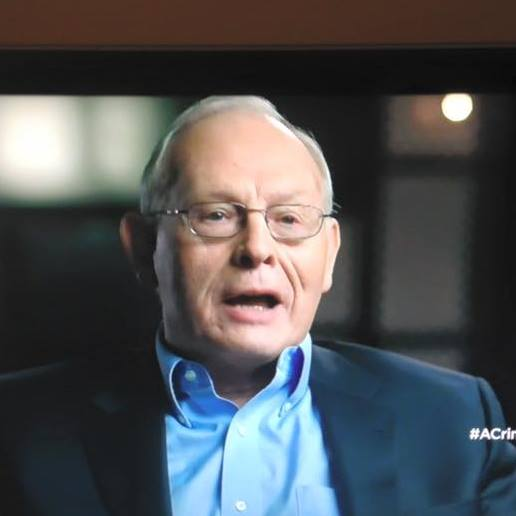 Shelton L. Williams (Shelly) is founder and president of the Osgood Center for International Studies in Washington, DC. He holds a PhD from Johns Hopkins School of Advanced International Studies and he taught for nearly 40 years at Austin College in Sherman, Texas. He has served in the US Government on 4 occasions, and he has written books and articles on nuclear proliferation. In 2004 he began a new career of writing books on crime and society. Those books are Washed in the Blood, Summer of 66, and now the three books in the Covey Jencks series. All firmly prove that he is still a Texan at heart.
---
| Website | Amazon | Goodreads | Facebook | Twitter |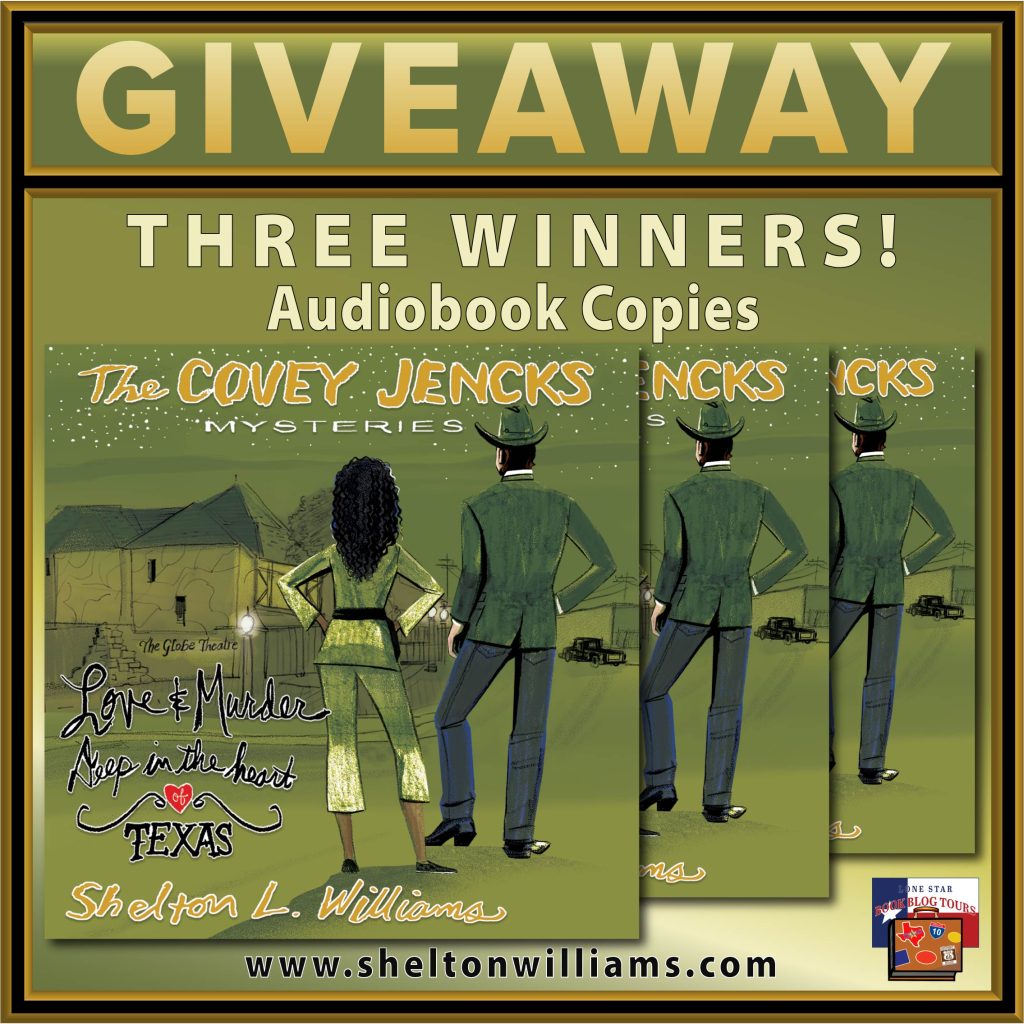 a Rafflecopter giveaway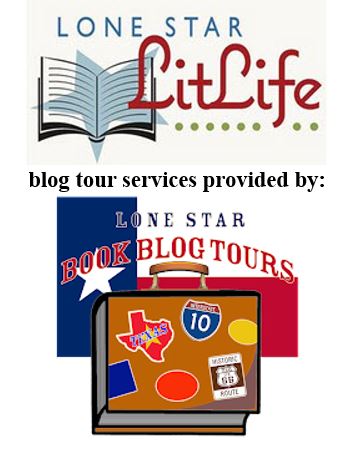 Related Content: