by Rox Burkey
Nancy, thank you for sharing time with me and my readers today. I want to feature you as I love learning about authors and how they get hooked creating stories, especially ones like yours. I know your passion for Texas history finds a place front and center in your novels. One of your trademarks are your well-developed characters in relatable settings. Let's share some of your background as a start and move on from there.
How long have you lived in Texas?
Born and raised in Texas.
You write about several locations in Texas including Dallas, Galveston, and touches of other Texas locals so realistically. How do you conduct your research?
I grew up in San Marcus, Texas, and we visited Galveston a lot. Texas history was my favorite subject in school, so when I began my writing career, I knew I wanted to use the city of Galveston for the location. It's rich history and the historic flood in 1900 are prominent in my first book. I spent many hours at the Rosenberg Library to gain insight in its past.
Was there a singular event in your life that started you on your expansive writing career?
It was a passion of mine for a long time, but I could never pursue it because of my busy career.
You have an awesome historical series set in the 1900s in Galveston. How did this series come about?
I retired in 2013 from a successful career in real estate and began my research. The internet supplied minimal information on Galveston's history, so I purchased Gary Cartwright's book: Galveston, A History of the Island, and David McComb's book, Galveston. A History. There were many others that I used as reference books. Many books were out of print but were available for use at the Rosenberg Library. I spent a week there plowing through research papers and reading everything I could. I also interviewed a dozen people. I wanted my books to be accurate about its history. My characters are figments of my imagination and people who have made an impact on my life.
Tell me a little about this series?
My six-book series covers twenty years of my heroine's life. Book six is about my characters two oldest sons and the trials they endured in the early 1900s
Your lead character in this series is a strong woman, what did you base her on?
My mother was a strong woman. She married very young and became widowed at the age of twenty with three children under six. She overcame all obstacles and graduated college.
Your writing has touches of romance, suspense, and mystery. How do you classify this series, and who is your targeted reader?
I write historical fiction and include all of the above. A wise writer once told me you have to include sex, murder, greed, and tragedy, or no one will read it. Men, as well as women over the age of eighteen, are my prominent audience.
Carsen Chance is another strong character and a Private Investigator. Why did you decide to write this book?
I worked for several lawyers and a private investigator in Dallas, Texas, during the l960's and '70s. I have lived through a lot of the things I've written in my stories.
Do you plan to continue Carsen as an ongoing series?
Book 2 Unraveled is available now. I have other stories I'm considering before doing another.
Now you're teasing me. I guess readers of this blog and me will need to follow you to find out what's next.
The Rain Man is a different type of murder mystery. How did this book come about?
I based it on some of my friends' experiences when I lived in Dallas.
Which fans are your target for this book?
Anyone who likes a good murder mystery with a romantic twist will enjoy it. Solving crimes in the 1970's was complex since there was no DNA, internet, or cell phones.
Will readers find another story with these characters, Mark and Sarah, continuing?
I wrote this as a stand-alone book.
I am lucky enough to have read a couple of your stories. You have a talent in immersing readers right after you grab them on page 1. What do you attribute your success in doing this with your writing?
I do lots of re-writes. I get bored very easily. If a book doesn't grab my attention in the first chapter, I don't finish it. I think my readers should expect the same from me.
Who is the perfect reader for your novels?
Anyone who enjoys historical fiction with lots of action.
I know you also love to read. Do you have a favorite author and/or a favorite book?
I like authors who write a good story and take me on a journey. I read all of David Baldalchi's books, as well as Sandra Brown and Stephen King.
You and your husband are hosting a dinner party, what authors (living or not) would you like to sit next to? Is there one question you would really like to ask of these authors?
Earnest Hemingway and Stephen King. My question to both is, 'What gives you inspiration in creating your characters?'
This is a great question. Please let me know when the dinner is, and I will be one of the servers so I can listen to the answers.
What is the perfect setting for you to write?
As long as I have peace and quiet, I can write anywhere. I've gone on several writing retreats and find them to be very successful.
Are you fan of attending actual or virtual book festivals?
I'm not a fan of anything virtual. I'm a touchy, feely kind of person and get bored with virtual.
Which of your books are you most proud of and why?
I pour my heart and soul into all my books. My Galveston series is a journey I spend five years writing and am most proud of because of the historic background. Many of the characters were born from people I've met along the way.
What are some of your key relationships that help you be successful?
I've met a lot of interesting people in my life. Many are characters in my books. My husband is my biggest fan.
How would you like your raving fans to support you?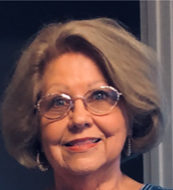 Recommend my books to others.
Are working on a new book. What is the title and when will it be available?
I've written several short stories and am considering using one of them.
Any advice you would like to share with any up-and-coming writers?
Write for the pleasure of writing.
Thank you, Nancy for joining me. I loved learning even more about you.
FIND AND FOLLOW NE BROWN
Related Content: