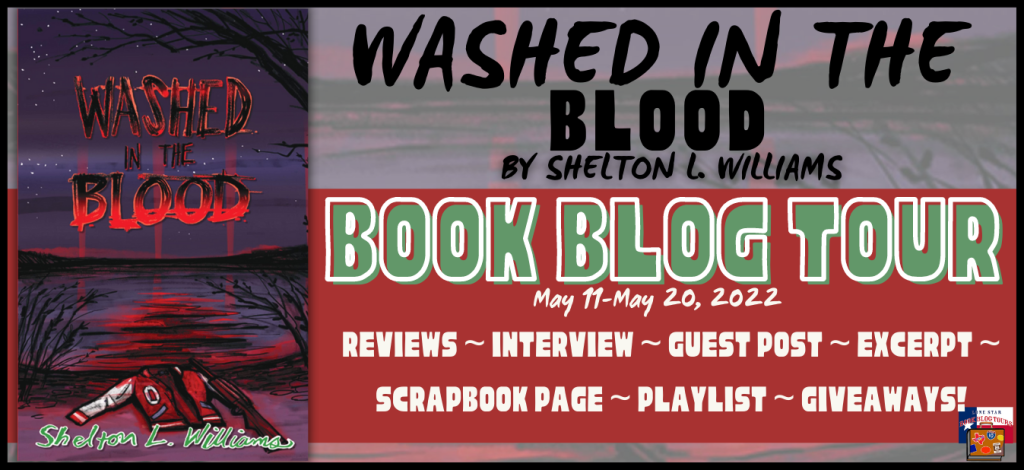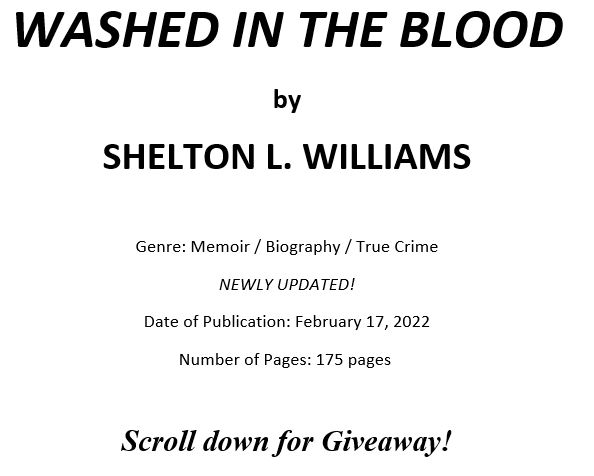 The true story behind the Kiss and Kill murder in Texas in 1961. Author Larry King says: Washed in the Blood is a page-turning read about the time–early 1960s–and place–Odessa, Texas–during its rowdy oil boom days when violence often rode the range. It is at once an examination of local mores and foibles, piety and hypocrisy and an inside-look at the famed 'Kiss and Kill' murder of a 17-year-old would-be actress, Betty Jean Williams, whose ghost is said to haunt the Odessa High School campus to this very day.
CLICK TO PURCHASE!

—————————————————————————————————————–

**** Poignant Tribute – Tragic Impact
Review by Rox Burkey
Author Shelton Williams shares his memories of life in the 1960s in Odessa, Texas, focusing on his relationship with his cousin Betty Jean. Family and friends called him Shelly growing up. His family lived on one side of town, and Betty Jean's family lived on the other. Consequently, they attended different high schools which competed in sports, especially football. Shelly's school was the more affluent Permian, and she was at Odessa High School. These kissing cousins were a year apart in age but friends and family. They played, went to family events, and talked about many things growing up. They shared confidences about their difficult fathers, acceptable or unacceptable societal standards, religion, music, movies, and sex. Betty loved theatre, and Shelly thrived on football.
Author Williams takes readers on a journey that reveals the events and times looking back after 60 years with a focus on Betty Jean's death at seventeen. Her murder certainly impacted those who knew her, but the tragedy of her short life continues to this day. The journalists of the times, across all media, focused on Mack Herring, who committed the crime. Over the years, Shelton Williams interviewed countless people to assemble Washed in Blood. The individual accounts represented in this story provided memories, thoughts, and insights into Betty's hopes, dreams, and questions on being both accepted and unique at the same time.
Like today, Football and Texas went together like peanut butter and jelly. Mack Herring was a handsome football player with connections of both family and friends. Betty and Mack were considered a couple for a short time. They had broken up when he killed her on his family's property. It was appalling to learn Mack was found not guilty due to temporary insanity. She reportedly asked him to kill her. He committed a brutal act but never paid the price.
Washed in the Blood is a stunning recount of life in small-town Texas and a devastating event. The photographs included between the pages complement the author's descriptions and highlight the norms of the times. I recommend this personal memoir if you are a fan of true-crime narratives, the inequities of the 1960s. pre-hippie idealists, or women's rights with the unvarnished truth.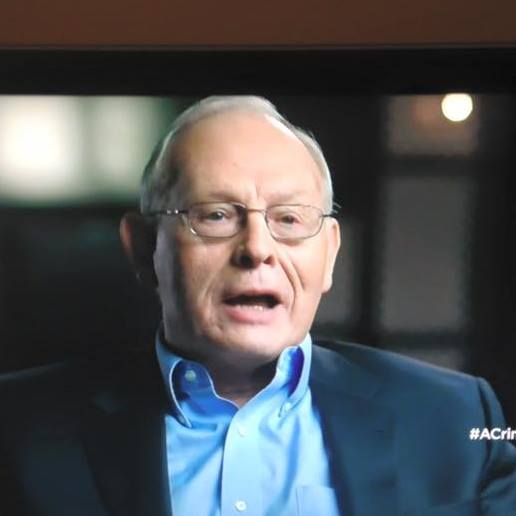 Shelton L. Williams (Shelly) is founder and president of the Osgood Center for International Studies in Washington, DC. He holds a PhD from Johns Hopkins School of Advanced International Studies and he taught for nearly 40 years at Austin College in Sherman, Texas. He has served in the US Government on 4 occasions, and he has written books and articles on nuclear proliferation. In 2004 he began a new career of writing books on crime and society. Those books are Washed in the Blood, Summer of 66, and now the three books in the Covey Jencks Mysteries series. All firmly prove that he is still a Texan at heart.
◆ WEBSITE ◆ FACEBOOK ◆ TWITTER ◆
◆ AMAZON ◆ GOODREADS ◆ LINKEDIN ◆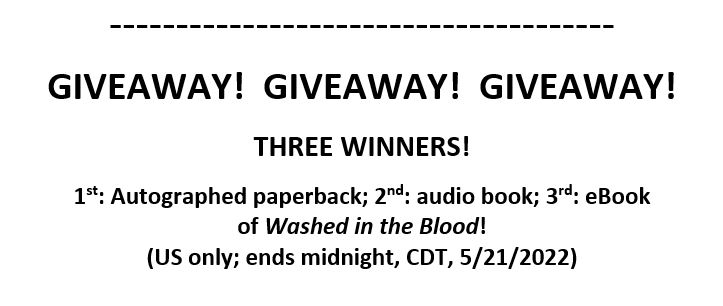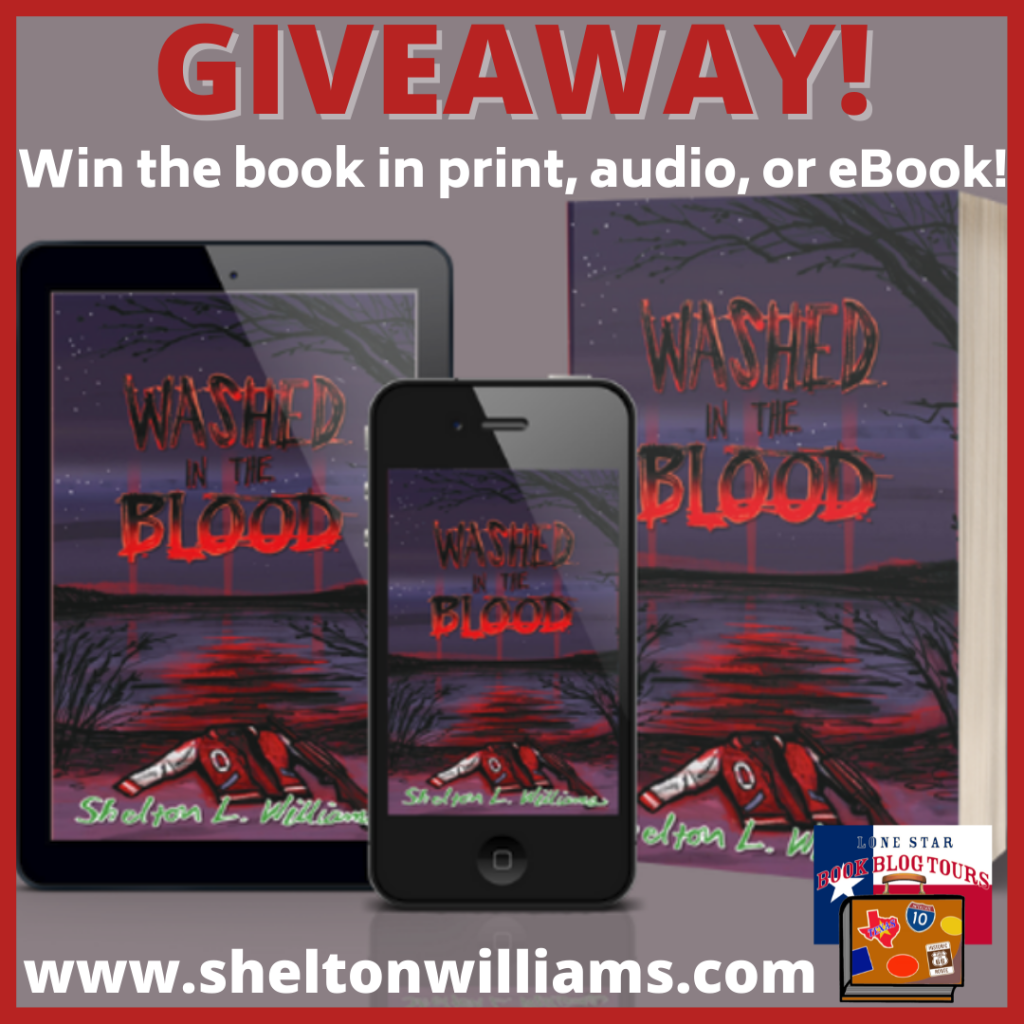 a Rafflecopter giveaway
CLICK TO VISIT THE LONE STAR LITERARY LIFE TOUR PAGE
FOR DIRECT LINKS TO EACH POST ON THIS TOUR, UPDATED DAILY, or visit the blogs directly: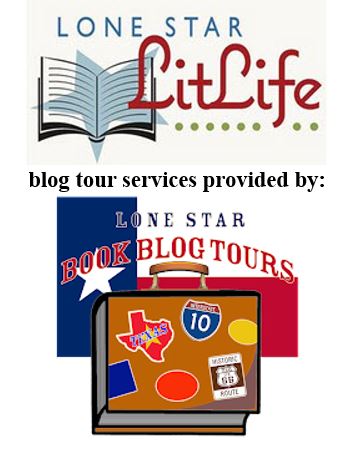 Related Content: