***** Inspirational story with great lessons    Review by Rox Burkey
Author Nicholas S. Casale creates a fun world where Mousefred (Mousey) Souris is at the mercy of the cat sorceress Felicia Muur. Queen Felicia ruled all the mice with an iron fist. The descriptions were detailed, and the dialogue believable between all creatures.
As a youngster, Mousey finds he has the power to overcome many obstacles. His approach to other creatures as a helper is a good trait that the evil Queen does not reward. He longs to escape and find his way.
I found the adventures and challenges that Mousey faces a good source of entertainment and life lessons for children. The lessons including helping others, doing the right thing, and conquering fears. The introduction of the golden book opens the story for magical fun. Learning this magic provides the talisman to Mousey to find his inner strength.
Narrator Miguel Rodriguez delivered this story at a good pace to keep young readers and adults engaged. His rich, warm voice and intonations kept me listening. The story is compelling on its own, but listening to this story brought me back to my childhood. I highly recommend this to children and adults. I think it would be a fun story to listen to during a road trip this summer.
About the Author
Nicholas S. Casale, or "Nico" as his friends call him, was born on Vandenberg Airforce Base in California. When he was eleven years old, he moved to Colorado with his family for his father's new job.

He went to Lewis-Palmer Middle School, where teacher Mrs. Susan Doyle got him interested in history by expressing to him that it was not about facts to memorize, but about stories to be told. During this time, English teacher Mr. Todd Mucci also taught him how to write, and he began work on his first piece of historical fiction.

Though his family was fairly secular, he attended a youth group at the Little Log Church in Palmer Lake, Colorado.

In college, he majored in history, and studied various mythologies and religions throughout the world. After college, he became certified as a paralegal and worked at Wal-Mart for the next three years while he tried to find a job with a law firm.

After landing his first paralegal job, he still felt something was missing in his life, and struggled with bouts of depression and loneliness. That was, until he started attending a Messianic Jewish Synagogue in Colorado Springs, where he met the Hebrew class teacher who would one day become his wife.

He is now happily married to Jenifer E. Casale, who wrote "The Whispered War" with him and is currently working on a feminine counterpart to the famous "Hero's Journey" theory devised by Joseph Campbell.
Website https://www.royalroad.com/profile/118423
About the Narrator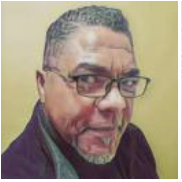 Miguel Rodriguez has worked as a voice-over (VO), for many years, and am just now "emerging from the shadows", producing more audiobooks and working with a new coach.  He is in the process of preparing for production of a professional demo and next, a website. The new launch is in the works, but I will gladly entertain collaborations with other creatives in the meantime. 
Miguel is a retired veteran, having served 33 years combined, in both the U.S. Navy and Air Force.  He is also a freelance Spanish bilingual voice talent.  Think Morgan Freeman.  Mature, compassionate, strong, warm, luxurious tones.  From corporate to personable; a voice of clear distinction. Corporate videos include, General Electric Inside Sales, Conducive Splunk Admin, and Equity & Help, Inc.  Currently narrating audiobooks in a wide range of genres, including, Non-fiction Faith & Spirituality, (in English & Spanish), Children's story books, and self-help titles.
Screen Actor and freelance Spanish bilingual Voice Talent. Currently working in audiobooks and serving over 150 telephony (IVR) clients throughout North America, through PH Media Group, a global provider of audio branding services.

Voiced numerous radio and television advertising campaigns and multi-media projects, and served as the voice of the North Metro Thunder semi-professional football team in Denver, Colorado.

Represented by Go Voices Voice Talent Agency, Denver, CO.

Reach out Miguel via email mikedup60@yahoo.com  or on Facebook
Related Content: