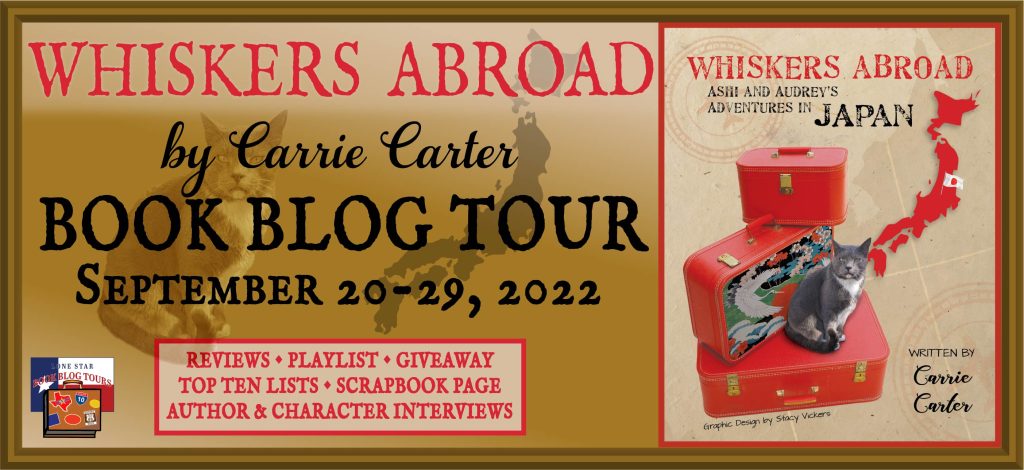 SCROLL DOWN FOR GIVEAWAY!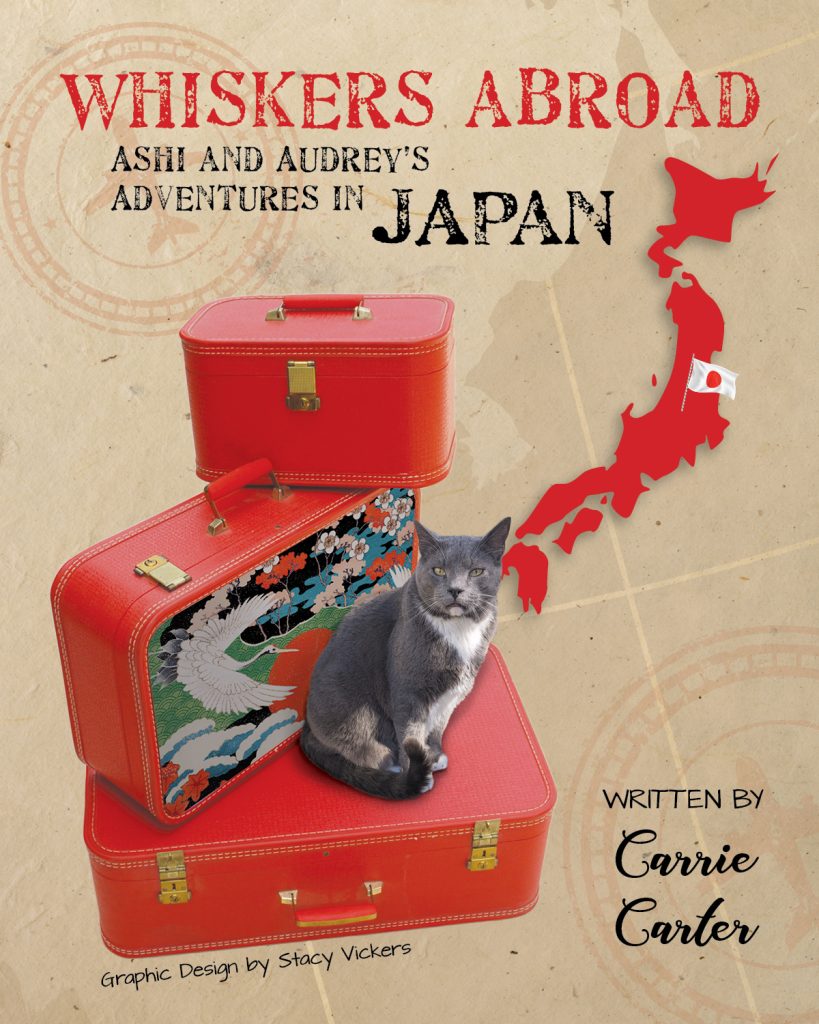 Whiskers Abroad is a lively and charming travelogue featuring a trip to Japan shared by two main characters, Audrey and Ashi, who alternate recounting their versions of events. Audrey, having won the chance to write a magazine article about traveling in Japan, takes along her cat, Ashi. Over the course of a twelve-day trip, the pair visit Tokyo, Wakayama, Shirahama, Kyoto, and Miura Peninsula. Food is of great interest to both, as they sample typical Japanese dishes from ramen to sushi to tuna specialties. They also explore Japanese culture, including food markets, a family farm, temples, and Tokyo nightlife.
Adventures abound, from Audrey losing Ashi in the fish market to Ashi slipping out of the hotel at night to go to a cat café, where he meets an alluring feline. Audrey is still trying to find her place in the universe, while Ashi believes Audrey would sink beneath the waves were he not present to rescue her time and again. Audrey is a dedicated reader of her horoscope, and the prediction for each day offers tantalizing clues as to what's in store for the pair. Written by author Carrie Carter and beautifully designed by Stacy Vickers, Whiskers Abroad is both an amusing travel story with unforgettable characters but also a useful guide for tourists going to Japan about such basic travel issues as how to get from the airport to central Tokyo, how to purchase a rail pass, what to visit in Tokyo, and what to eat. Lavishly designed with full-color photographs and arresting page layouts, Whiskers Abroad will delight both your eyes and your sense of adventure. 
CLICK  TO PURCHASE!
$0.99 Kindle Pre-Order Sale Through 10/2/2022
| Amazon | Barnes & Noble | BookBub | 

PRAISE FOR WHISKERS ABROAD
"Whiskers Abroad is simply a delight, offering respite and reflections that bring readers into Japan from different perspectives, capturing a writer's journey through new foods, a different culture, and a cat's eyes. It's very highly recommended for its ability to reach beyond the usual travelogue audiences to immerse all ages in its fun adventure." — The Midwest Book Review


"What if we miss our flight?" my husband asked.
I shrugged. I'm sure we could figure out how to get another flight out of Narita, Japan, to Houston, Texas. The four-hour layover in Narita on our way home from Australia was too great to waste. This would be our only time to see a sliver of Japan. Sure, four hours weren't really adequate, but it was better than zero hours. I insisted.
 We'd take the train to its first stop, get out, and walk around for a few hours before heading back to check in for our flight. I had two goals in my mind, eat noodles and purchase a t-shirt. Other than that, I simply wanted to observe the sites.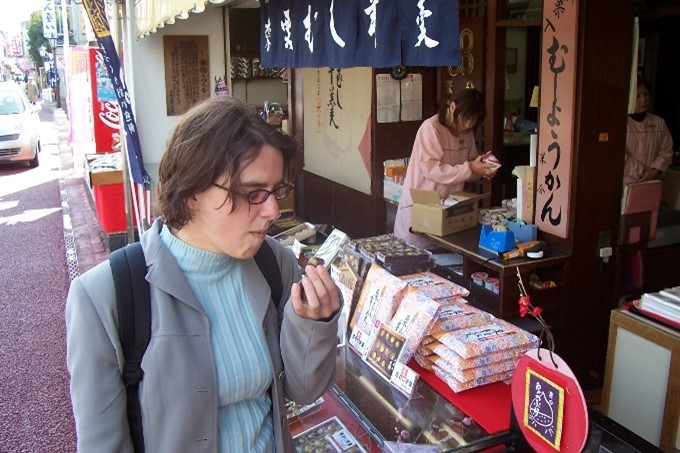 On that morning in February, a chilled crispness clung to the air, and only a few people strolled about the trash-free streets of Narita. Stores sold food items that were unfamiliar, and some even unrecognizable as food. I grabbed a free food sample, certain it was candy filled with chocolate, but to my surprise, it was filled with sweetened mashed beans. Beans as candy? It was a bit of a culture shock.
We continued on, unsure of what each storefront actually was. None of the signs were legible to a person not educated in kanji or katakana. I walked around in a daze, marveling at how different it was from my own home city.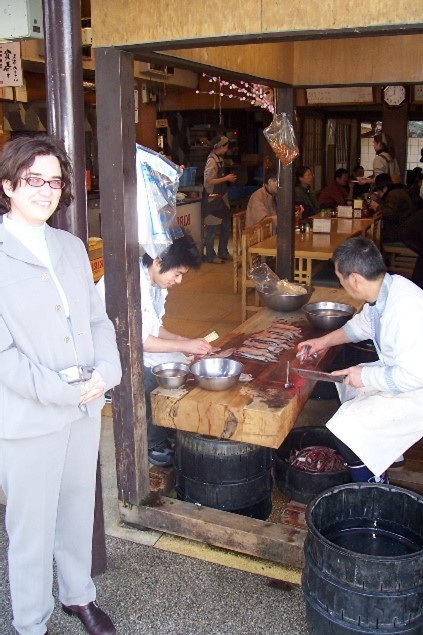 It wasn't long before my desire to eat overwhelmed my desire to find a t-shirt. We contemplated eating at the eel restaurant where the chefs stuck their hand into a bucket to pull out a wiggling eel, which they'd stretch out on a board, hammer a nail into its head, and gut. A gruesome process, but as the eel body was chopped, skewered, dipped in sauce, and placed over charcoal, the smell wafting through the restaurant stimulated my appetite even more.
But I had a goal. I gave a nod to the working chefs and moved forward in search of noodles. We settled on a non-busy restaurant. The chef/waitress/owner greeted us and excitedly spoke to us in English, lamenting that not enough foreigners visited Japan. That year Japan would see 4.37 million foreign tourists.
I expressed my desire to eat noodles, and she returned with the most delicious bowl of fat white noodles covered in a broth with a pink and white pin-wheel thing. At the time, I didn't know what they were, but now I know it was a bowl of udon noodles with a slice of fish cake.
          She chatted with us, asking questions about where we were from, did we like Japan, and did we want more food.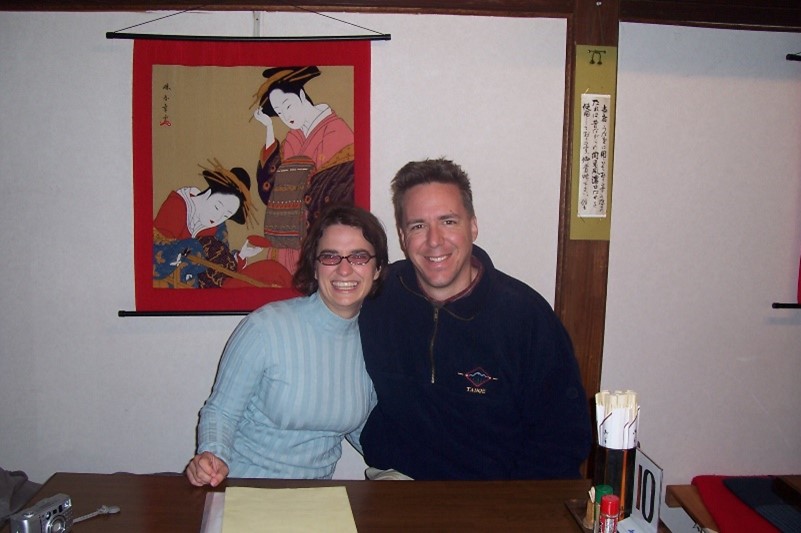 She told us about the upcoming festival this summer and insisted we return to experience it. I remember thinking how unlikely that would be, that this would be the only time I would set foot on the land of Japan.
I was wrong.
After that brief introduction to Narita, I found myself wondering more and more about the country. I googled customs and how to use chopsticks properly. I read about tourists' sites to visit and must eat at restaurants.
The seed of curiosity had been planted and continued to grow.
Besides, I still needed to buy that t-shirt.
"Maybe," I told my husband, "We need to spend a week in Japan."
We did more than spend a week. We returned to the country fourteen times after that. We explored the busy city of Tokyo, observed chilling monkeys lounging in hot springs, and rode bikes through the Seto Islands. Our skin got a free micro-derm abrasion treatment as we hiked around Sakurajima, and the volcano spewed ash raked across our skin on a rainy, windy day. We hit the must-sees and a few undiscovered places like Himi, where the stores were closed, the streets were empty, and classical music was piped into the streets, much like a scene from The Twilight Zone.
I made friends in Japan and even learned a bit of the language.
But the biggest thing to come out of my trips to the country was the idea for Whiskers Abroad: Ashi and Audrey's Adventures in Japan. I would have loved to do a guidebook, but another straightlaced travel guide would have been swallowed by the big boys. You know who they are.
Instead, I wrote a fictional story of a traveling cat and his owner's adventures with some legit travel advice thrown in. This was way more fun than telling people which hotel rated three stars.
Who knew a four-hour layover would have had such an influence over my life?
          If a chance to do something new comes your way, take it. You never know where it will lead.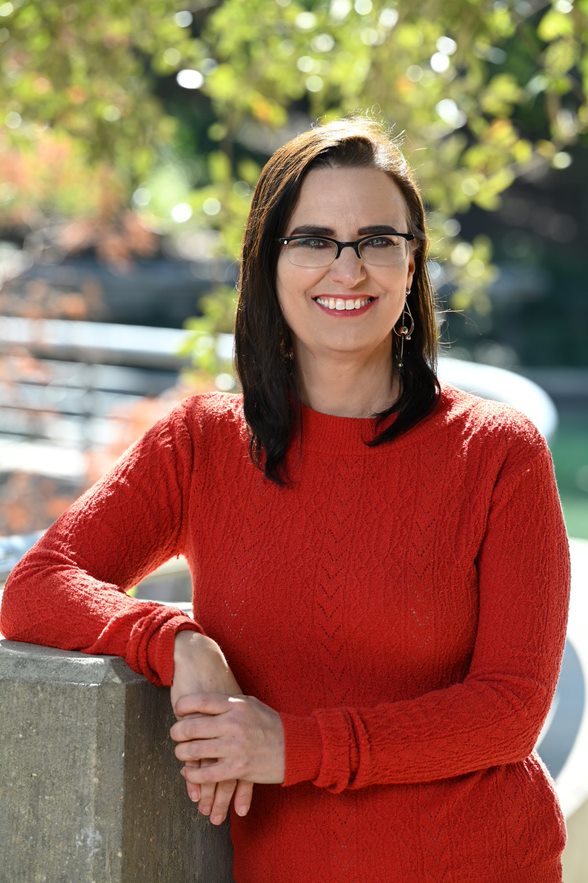 Carrie Carter has a profound love for Japan, cats, sumo, dioramas, and eating unusual foods. She has traveled with her husband Jim to Japan fourteen times, so her numerous holidays across her favorite country were the inspiration for her first book, Whiskers Abroad: Ashi and Audrey's Adventures in Japan. Carrie has run multiple marathons including the Tokyo Marathon, and as expected, Carrie and Jim live with an adorable cat named Frenemy, who was unhappy at not being selected as the model for the book.
Carrie lives in Houston, Texas, and graduated from the University of Texas at Austin. At home, she loves to cook, design/create Halloween costumes, and daydream about meeting Jacques Pepin. She dislikes overly dramatic music used in reality TV shows. Currently, Carrie is working on her second book, a sequel to Whiskers Abroad, where Audrey and Ashi explore further into Japan and get themselves into even more interesting predicaments.
| Website | Facebook | Instagram | Twitter | Amazon |
| Ashi's Facebook page | Ashi's Instagram page |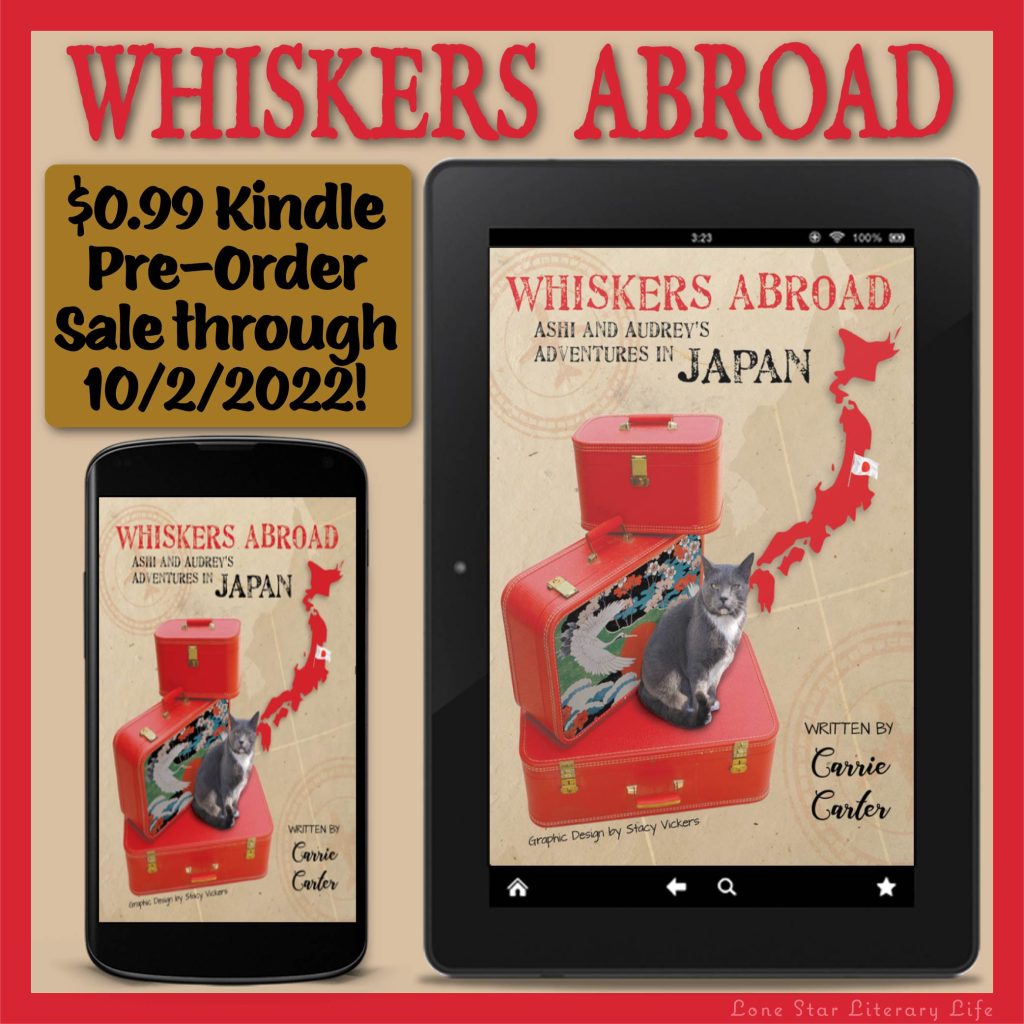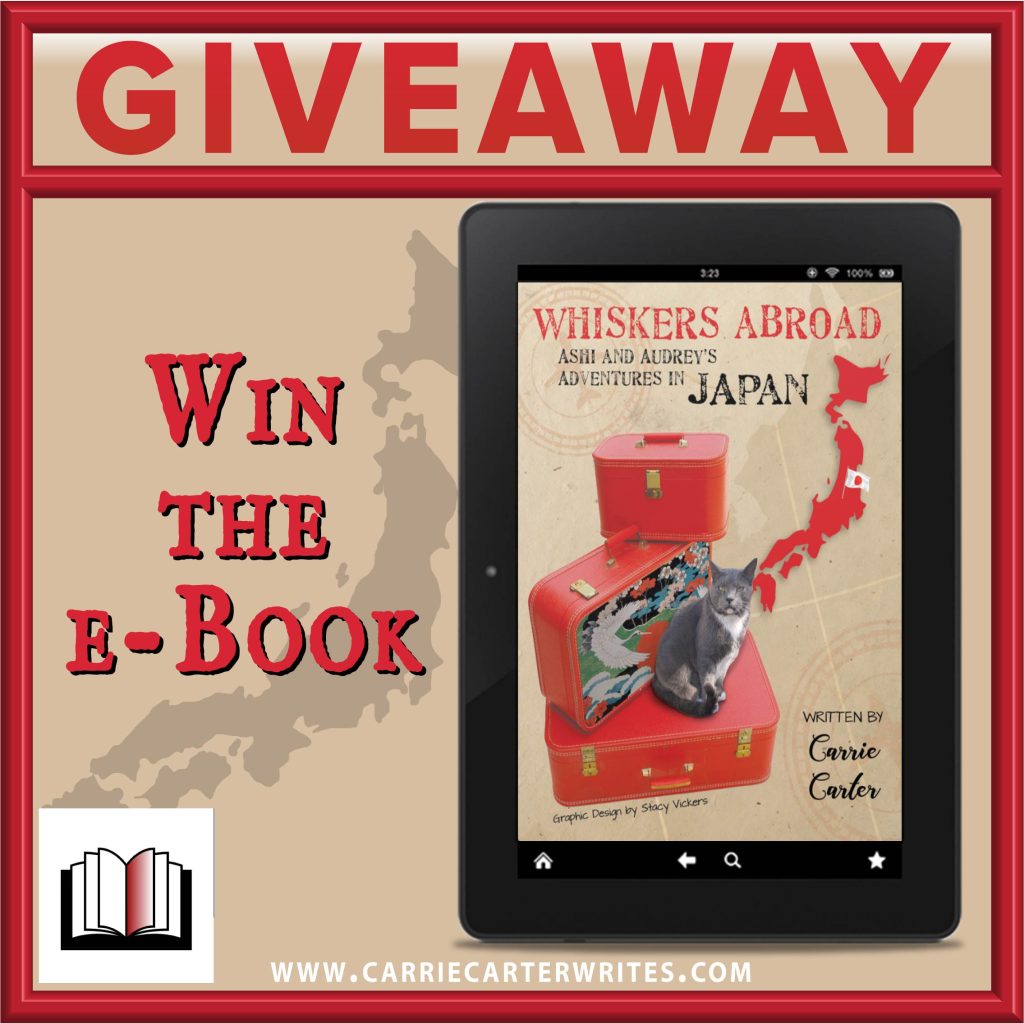 a Rafflecopter giveaway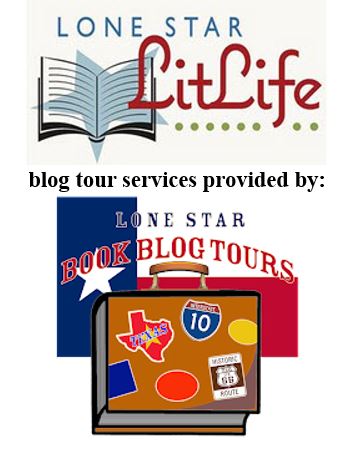 Related Content: