I am so delighted you stopped by to learn more about Yvette's latest release. This story took a while to release as you'll discover in this interview, but worth the wait.
GIVEAWAY: 3 e-book copies of HYPE! Leave a comment below for your chance to win!
What inspired you to write HYPE?
When I first started writing novels, I was teaching high school students who struggled with reading, so I wanted to write a story around their world – school. I wanted them to be able to place themselves in the halls and the pep rallies. I had hoped they would lose themselves in the story and not even realize they were reading for enjoyment.
As I began writing the story and hearing Cici's voice in my head, I realized the issues discussed would be intense and may even lead a few of them to seek help. That led to further inspiration to make sure I told the story with dignity and respect for sexual assault victims as well.
What do you love most about writing?
I have a strong awareness of the voice in my head. Writing allows me to mold that voice creatively. I enjoy hearing characters' personalities unfold and creating stories around those personalities. Writing poetry helps me stay in the present moment and recognize the beauty around me. Seeing the finished product of my writing fills me with a sense of accomplishment and pride. Knowing others will be able to lose themselves in my stories is the greatest reward.
What's the most challenging part for writing your stories?
Time is always my biggest obstacle. As a teacher and a single mom of a high school student who plays football, I wake up at 5 am and crash around 10 pm with very little free time. My weekends are filled with errands or the absolutely needed beach time. So, writing gets sprinkled in here and there. I tend to write more during the summer when my schedule is not so packed.
How do you craft your story and characters?
With my Diasodz series, a dream started the series. It was an intense dream of the death of one of the characters. I woke up crying and couldn't stop wondering about the identity of each person in the scene. That was the birth of my Diasodz.
With Hype, it was Cici's sassy voice in my head. She made me laugh with her outlook on life, and I knew her story needed to be told. I always start with the characters. I flush out every aspect of their personalities – looks, emotions, strengths, weaknesses, connections to others, etc. The dialogue comes next, most likely because I hear their voices so strongly. The story gets built from there.
How long does it take you from idea to finished book?
Each book is different. The One Discovered took a few years because I took time to create the characters and build the world. Then, I sat on it for a year or so before publishing it. The rest of the Diasodz series took less time because the characters were mostly created.
Hype has definitely taken the longest time. I started writing this story about ten years ago. When I finished writing it, the Diasodz popped into my head, and I became immersed in that world. When it came time to choose what book to publish, I chose The One Discovered because I knew more books would come for the series, so Hype took a backseat for the next decade. When the pandemic hit, I had more time on my hands and decided to dust Hype off and work on Cici's story. I took this past year to revise and edit it, and now it's ready for the world to read.
What is your favorite theme/genre to write?
Young adult fantasy/paranormal is my favorite genre. I love being able to explore my imagination and push the limits of reality. Hype will be the first book I publish that does not have a paranormal element to it.
Who is your favorite character in HYPE?
Cici is my obvious choice. There is an aspect of her personality that is not likable, but the strength and resilience she shows through her ordeal is commendable. My second favorite character is a tie between Nicole and Gaby, both of whom are antagonists for Cici. Both Gaby and Nicole are misunderstood in the story. I love Gaby's courage, determination, and self-preservation. I empathize with Nicole's struggle to be loved and accepted.
Do any of your life experiences worm their way into your books?
Hype pulls on many of my life experiences. As a teacher, I am able to create realistic school scenarios. The attitudes and insecurities of the students were easy to create since I was surrounded by students every day. I was also a cheerleading coach for a few years, so writing those scenes came naturally to me. Still, the characters I created are purely fictional.
What do you hope readers take away from your books?
Ultimately, I hope readers walk away feeling as if their time was well spent with my story. With my Diasodz series, I hope they find themselves fantasizing about the characters and the world in which they live. With Hype, I hope it helps them understand the need to report sexual abuse and seek help if they are ever in that situation.
What can you tell us about what we'll see from you next?
I am currently working on book six of the Diasodz series. I had planned to end the series after The One Awakened, but Drake insisted that his story be told. I am about halfway through writing it and hope to finish by summer of next year (or sooner if the stars align perfectly). In between, I might write another short story, so keep a look out for that as well. Readers can follow my blog for updates.
Is there anything else you'd like to share with my followers?
I always say that writing is a work of heart, and I poured my whole heart into this story. Although Hype is listed as a young adult story, it is a story that will resonate with adults as well, and I hope your readers will read it and share it with others. I appreciate you sharing your space with me today. Thank you. 😊
Book Blurp
Cici's junior year in high school is going to be the best year ever. Popular co-captain of the varsity cheerleading team, she's dating the starting quarterback. Even her jealous co-captain's attempts to steal her boyfriend can't curb her enthusiasm.
When her mom moves in with her fiancé, a handsome, wealthy man, only one small detail threatens Cici's perfect life. The school's social pariah is about to become her stepsister, and Cici wants nothing to do with her.
Everything changes when someone Cici cares about throws her life into a tailspin, and the one person Cici couldn't stand becomes her only ally.
Warning: This story contains scenes of sexual assault.
Available on Amazon and Smashwords
To follow along with the rest of this tour, please visit Yvette M Calleiro's tour page.
Author Bio:
Yvette M. Calleiro is a heavily addicted reader of both young adult and adult novels. She spends most of her time pseudo-living in paranormal worlds with her fictional friends (and boyfriends). When she's living among real people, Yvette M. Calleiro is a middle school Reading and Language Arts teacher. She's been sharing her love of literature with her students for over twenty years. Besides writing about the various characters that whisper (and sometimes scream) in her head, she enjoys traveling, watching movies, spending quality time with family and friends, and enjoying the beauty of the ocean.
Yvette lives in Miami, Florida, with her incredible son who has embraced her love for paranormal and adventurous stories. She also shares her space with an assortment of crazy saltwater animals in her 300-gallon tank.
Amazon Links:
Hype – https://www.amazon.com/dp/B09L7BFNXG
The One Discovered (Chronicles of the Diasodz, Book 1) – https://www.amazon.com/gp/product/B00I4L2Q40
The One Enlightened (Chronicles of the Diasodz, Book 2) – https://www.amazon.com/gp/product/B00R0QI51I
The One Betrayed (Chronicles of the Diasodz, Book 3) – https://www.amazon.com/gp/product/B0191O1892
The One Revealed (Chronicles of the Diasodz, Book 4) – https://www.amazon.com/gp/product/B01NBKJHIO
The One Awakened (Chronicles of the Diasodz, Book 5) – https://www.amazon.com/gp/product/B0781WT73J
The One Chosen – A Diasodz Short Story – https://www.amazon.com/gp/product/B0986Q6P1D
Breathless – A Short Story – https://www.amazon.com/gp/product/B08BLVDHQX
Amazon Author Page – https://www.amazon.com/Yvette-M-Calleiro/e/B00I4RJMUU
Social Media Links:
Author Blog: http://yvettemcalleiro.blogspot.com/
Twitter: https://twitter.com/YvetteMCalleiro
Facebook: https://www.facebook.com/yvettemcalleiro
Goodreads: https://www.goodreads.com/author/show/7800735.Yvette_M_Calleiro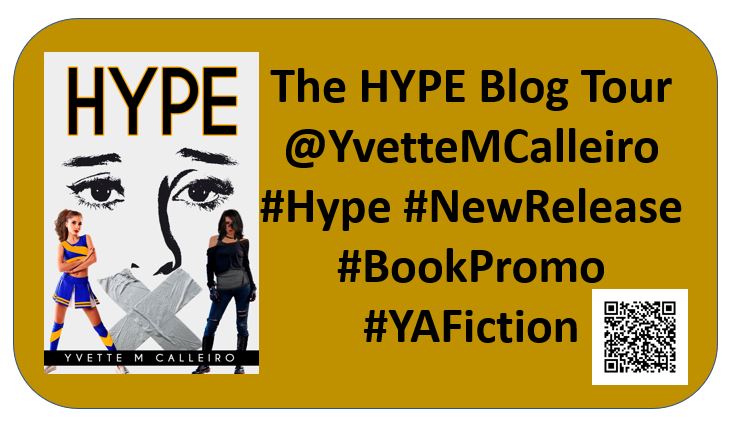 Thank you for stopping. Yvette is an amazing author. I love her stories and have reviewed several. This one is in my kindle now. Add it to yours today.
Related Content: