Thanks for stopping by. Fred has a lot to say, so read on and enjoy! Rox

(1) $10 Amazon gift card
Hi, my name is Robert Fear, and I am excited to be participating in this 4WillsPub 3-day blog tour.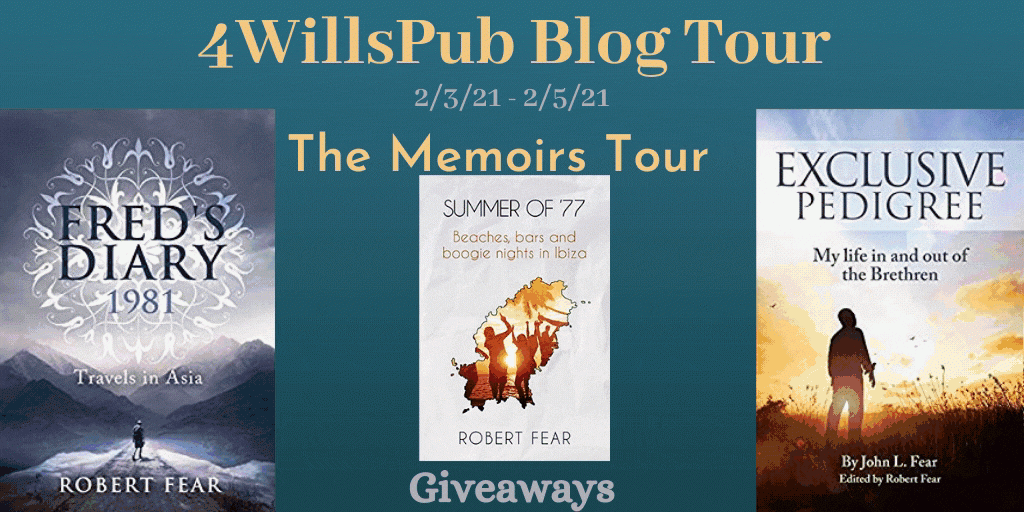 Over the next three days, I will share with you some background to the three memoirs that I have self-published. As a special offer to readers of this tour, I have reduced the Kindle price on each book to 99c/99p (RRP $4.99/£3.99) on Amazon US and UK.
Here are the links to the memoirs that are being featured:
Fred's Diary 1981: Travels in Asia – getbook.at/FredsDiary1981
Exclusive Pedigree: My life in and out of the Brethren – getbook.at/ExclusivePedigree
Summer of '77: Beaches, bars and boogie nights in Ibiza – getbook.at/Summerof77
Fred's Diary 1981: Travels in Asia
Background
Fred was a nickname given to me while at school. It became my travel name and people still know me as Fred to this day.
Fred's Diary 1981: Travels in Asia is the edited version of a handwritten diary that I kept during my travels around Hong Kong, Thailand, India and Nepal between February and July 1981. The final collection ran to 600 closely written pages.
I almost forgot the diary for many years. It only appeared when friends asked to read it.
In 2005 I started typing it up on my computer as the original copy was fading. I got the first two months from my trip transcribed but then ran out of motivation.
Two years later there was an article in a PC magazine about Kindle and self-publishing that sparked my interest.
As a result, I released the second part of my diary Time in Thailand in 2009. As the title suggests, things did not go as planned on that leg of my trip. I published £99 to Hong Kong in 2011. This covered the first part of my adventure where I worked as an extra for Chinese television.
By now the bug had bitten, and I planned a release of the whole diary. Over the next two years, I typed everything up and started editing.
In December 2013, I publishedFred's Diary 1981. It was a long book. The paperback version ran to 564 pages and contained 165K words.
During the first few months of 2015 further editing took place and the second edition, released in October 2015, contained less than 100K words, with around 360 pages. It also had a professional final edit and a new cover.
Favourite Review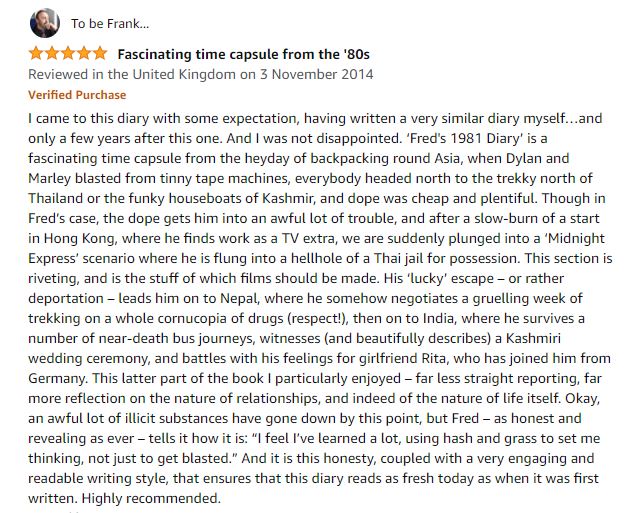 Book Description
Have you ever wanted to read someone else's diary?
Would you like to experience travelling in Asia without leaving home?
Then this book is for you. Fred's Diary 1981 is a fascinating insight into a young man's travels around Asia in the early 1980's. This is a unique opportunity to delve into Fred's daily diary, which details the 158 days he spent travelling around Asia. Follow Fred throughout his extensive travels to Hong Kong, Thailand, India and Nepal.
Appreciate the many friendships formed along the way with fellow travellers.
Relive the highs and lows that he experienced during this fascinating journey.
Recognise the huge differences in technology, particularly communications.
Become immersed in the different cultures, peoples and surroundings of Asia in the early 1980's.
Understand more about the drug culture of the 1980's, especially in Thailand and Nepal.
Learn from Fred's youthful mistakes, especially if your dream of travelling to Asia becomes a reality.
Grab your copy now for only 99c/99p getbook.at/FredsDiary1981
Author Bio
Robert Fear has lived in Eastbourne on the south coast of the UK for half his life. He moved there to be with Lynn, his future wife, and is still there with her over thirty years later. As cat-lovers, they have taken on several rescue cats over the years and are owned by three now.
For his day job, Robert works as a self-employed software consultant. In his spare time, he writes, edits, and self-publishes books.
Robert's interest in travel goes back to his twenties when he spent most of his time abroad. His experiences included: a summer in Ibiza, hitch-hiking around Europe, and touring the USA and Canada. His most eventful trip was in 1981 when he travelled through Asia.
Born into a religious sect known as the Exclusive Brethren, his father, John, took the brave step of leaving it with his young family when Robert was nine years old. Robert never saw his grandparents again but is thankful for being able to grow up outside this restrictive group. His life has been full of adventures he would never have experienced otherwise.
So glad you stopped by. Please leave a comment below to be in the drawing. Take care, Rox
Related Content: