Book 2 of the Detours in Time series
*** Almost Psychedelic Time Experience Review by Rox Burkey
In Book 2 of the Detours in Time series, Author Pamela Schloesser Canepa creates a fascinating world of time experiences. Her primary characters, Tabitha and Milt, are both well-developed and strong. In this world, time-bending reflects on the past, future, and impact of choices.
Milt, her husband, is supportive but has his own life goals that he must pursue. There is a strong focus on Tabitha, and most of the story is from her point of view. Motherhood of a new infant with a touch of postpartum anxiety sets her mind reeling. The emotional upheaval Tabitha experiences opens a path to reflect on her life. It is a perfect setting for exploring her choices.
Pamela delves into the emotions of each character while laying the foundation for adventures and the quest for truth. The thrills and excitement keep you engaged and invested in hoping for Milt and Tabitha's success. I related to the practical side of Milt and wanted a bit more of his perspective.
Tabitha's inquisitive nature comes to the forefront during her travels. There is a revealing exchange when she finds herself jailed. The conversation starts with Tabitha asking why and results in hearing her cellmate's story of her sons.
"Soon, I'm back in the 1960s. I started feeling like I belonged there. I remember John F. Kennedy, the Bay of Pigs, Woodstock. So, one day in 1969, I eat another potato. Well, here I am, back again, but I came back too late. My man was already gone with the babies. I don't know where. I left this cell, and I returned to it. I have no control over where this takes me…I don't dare eat a potato again. And now, you see, I have nothin'." She spat the word out. "Don't eat anything brown."
The woman turned her back. "Ma'am, why are baby boys rare?" She clung to the hope that some truth lingered in what this woman said, that she knew things. For sure, if she was a time traveler, she had seen things that many people here had not.
"We don't know. They say it's 'cuz everyone's having babies late in life. They say it's something in the water. I think potatoes are evil.
Undercurrents in Time, stretches your imagination of time travel and the cost or benefit of the action. Author Canepa will have you questioning not only characters choices but perhaps your own. I do recommend this science-fiction thriller for those who enjoy time travel and the possibilities. I have tagged Book 1 of the series to read, which puts me a bit out of order. I will likely reread Undercurrents. Try it.
About the Author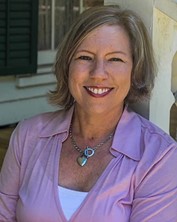 By day, Pamela teaches Middle School English. By night, she travels to other worlds and times, placing herself in the persona of her characters, all while sitting in her favorite chair. She has enjoyed writing for various reasons ever since childhood, when she realized writing and making up stories would provide entertainment for long trips and keep her company.
Her tendency toward fantastic stories was reflected in tales of discovering modern day dinosaurs and talking horses that would give her advice. The writing of poetry provided an outlet for private thoughts and emotions for years until she decided to self-publish fiction in 2016. Pamela's genres include science fiction, paranormal fiction, and poetry of all types. The Made for Me series is Pamela's first published fiction series. She released her first full-length novel, Detours in Time, in the summer of 2017 and the sequel in 2018. Pamela currently juggles her day job with writing further novels in the Detours in Time world while cooking up more ideas for the character of Norrie from her Made for Me series.
Related Content: