Book 1 of 3 (The College of Sorcerers Trilogy)
I attended an event in Denver that featured this book, so I bought it and fell into a masterpiece. Louis Sauvain creates a memorable world of fantasy, magic, and adventure, setting the foundation for a haunting series and coming of age. Thaddeus, the first of the young teen sorcerers-in-training, joins Silvestrus on a perilous journey to the college of sorcery. The story occurs during the Dark Ages when the two set out on their journey with Asullus, the sage mule. Silvestrus adds two more boys to the travel to the same destination. Along the way, they discover different worlds, people, and hints of budding magic. This epic fantasy has a wealth of places, immersing readers inside the pages with details of sights, sounds, smells, and feelings evoked by this master storyteller. Some locations increase readers' fears in the out as their heart beats triple, while other places seem worth languishing in forever.
The cast of characters is distinctive and memorable, especially Asullus, who takes on unexpected dimensions. Hints of the coming-of-age theme are captured in the story as the boys find themselves out of their element, forced to leverage resources unknown to them before this travel. Romance blossoms along the way and then vanishes as if wisps from a dream one will never forget. The boys grow along the way and begin to form a bond to last a lifetime. How long that life might be is unknown, yet growing up for these will be fraught with excitement, peril, and world-altering challenges.
I highly recommend this fabulous first book by Sauvain and this series, as it will keep you on the edge of your seat one second and chuckling the next. The unexpected yet perfectly woven words will wrap around your thoughts and carry you along to an unbelievable conclusion, yet begging for book two. Five stars seem far less than it deserves.
About the Author-In the words of the author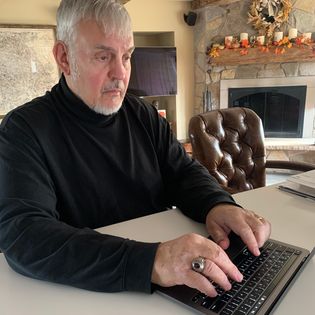 Using my background in healthcare, I have always been interested in how people employ fantasy to escape their current circumstances, and sometimes, their pain. Before running to writing full-time, I knew that such a distraction could help create an ability to tolerate what might be momentarily unbearable.
A retirement loomed, there was finally time available to free creative juices that allowed my fingers to flow, creating characters, and scenes unfolding wat I hoped would become epic stories. And as they flowed, the characters spoke up, guiding how they would respond when scenarios were created. The muse on my shoulder took the form of my high school English teacher who pushed with her trusty red pencil and supported my creativity and love of words.
Now, writing epic fantasy, my books have become an allaying salve for pain, relief and escapism to abandon, for the moment, this world and embrace, for a time, another. Sometimes it's for myself…and always for those who are just looking for a worthwhile read.
Born and bred in the Midwest, I call Wisconsin home. My reveal: Most of my ideas come in the shower when I ask my characters, "Okay, where are you going to take me today?
My challenge becomes…how to bring YOU…my readers…along so that you, too, can enjoy my path to completing each book's storyline. To me, that's gold.
Find and Follow Louis on:
Or email AuthorLouisSauvain@gmail.com
Related Content: