***** Man's Best Friend —- Review by Rox Burkey
Fans of the Magnolia Bluff Crime Chronicles will cheer the addition of Joe Congel to the Underground Authors. His quick-witted writing style comes through in Second Chances. All the characters in the cozy mystery come to life as Brandon Turner decides to make Magnolia Bluff his retirement destination. Lily, Flower B& B owner, Graham Huston newsman extraordinaire, and Joyce Blackstone, his realtor, welcome Brandon and Max, his black lab, like long-lost friends. The retired New York Narcotics Detective wants to find some good fishing and relax in small-town Texas.
A murder victim is discovered trapped below the dock on the Burnet Reservoir by Max and gets verified by Brandon before police are called. The newest visitor and his canine buddy are barely in town for twenty-four hours before the mystery begins. Turner recognizes his knowledge and experience will prove helpful to the Magnolia Bluff law enforcement team. The race is on to find the killer and continue his retirement plans. Turner and Max cannot resist following the clues, especially when Joyce gets threatened.
Mr. Congel expertly immerses readers into this non-stop action-packed mystery with confident storytelling. The drug dealers are nasty but no match for Brandon Turner and his expertise. The newest migrant to Magnolia Bluff didn't bargain to solve crimes, still, the citizens are glad he picked this retirement location. Fans of an outstanding cozy mystery with a splash of humor, romance, murder, and small-town residents will love Second Chances and all the other terrific mysteries in this series.
About the Author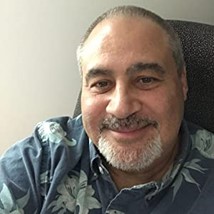 Joe Congel grew up in Syracuse, NY, and currently lives in beautiful Charlotte, NC. He got his first break in the world of publishing when he illustrated the humorous book, Housetraining Your VCR, A Help Manual for Humans, published by Grapevine Publications back in the early '90s.
A few years after Housetraining set the world on fire, Joe decided that he was better suited as a writer rather than as an artist, so he began crafting stories that allowed the reader to use their own imagination to add the visuals to the narrative.
Since he's enjoyed reading murder mysteries and PI detective stories all his life, he felt he had a pretty good grasp on how to create an engaging character in the world of private detecting. DEAD IS FOREVER is the first book in the Razzman Mystery Crime Files series, featuring Tony Razzolito, PI. The book is set in Syracuse, NY, and Charlotte, NC, with upcoming books in the series concentrated more in and around the Charlotte area. Joe is uniquely qualified to write about both areas of the country since he lived in Syracuse for 36 years and Charlotte for the last 25 plus years.
When he's not writing, you will most likely find him spoiling his three grandchildren.
Follow Joe on Facebook
and on Twitter
Blog: https://joecongelfictionstories.blogspot.com/
Email: jc.razzman@gmail.com
Related Content: