***** Racing After the Clues —- Review by Rox Burkey
Best Served Cold, Book 4, is my foray into the Tony Razzolito PI mysteries. Detectives Cahill and Havens have a tough case with Teddy 'Sky' Jones found murdered with a similar MO to another professional athlete from the prior year, Jarrod Trevino. Finding the connection and killer between the two cases in Uptown Charlotte takes readers on a suspenseful journey with plot twists with unexpected heart-pounding results.
The character and plot development are superb, with realistic dialogue and easy banter, like what occurs between Cahill and Razzman. Tony signs on with his team to help the police track the evidence in this complex murder mystery because he believes this is no copycat killer. It is difficult to pick a favorite character as they are interlinked like the clues weaving through the streets of Charlotte, North Carolina. The story is fast-paced, with significant appearances by the memorable Vinnie Gabrianno, a Brooklyn mobster. He is outrageously endearing.
Fans of fantastic murder mystery whodunits will love the drama, suspense, and thrills until the unexpected ending. I highly recommend this expertly executed story and added the first three books to my must-read list.
About the Author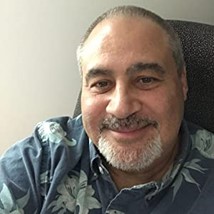 Joe Congel grew up in Syracuse, NY, and currently lives in beautiful Charlotte, NC. He got his first break in the world of publishing when he illustrated the humorous book, Housetraining Your VCR, A Help Manual for Humans, published by Grapevine Publications back in the early '90s.
A few years after Housetraining set the world on fire, Joe decided that he was better suited as a writer rather than as an artist, so he began crafting stories that allowed the reader to use their own imagination to add the visuals to the narrative.
Since he's enjoyed reading murder mysteries and PI detective stories all his life, he felt he had a pretty good grasp on how to create an engaging character in the world of private detecting. DEAD IS FOREVER is the first book in the Razzman Mystery Crime Files series, featuring Tony Razzolito, PI. The book is set in Syracuse, NY, and Charlotte, NC, with upcoming books in the series concentrated more in and around the Charlotte area. Joe is uniquely qualified to write about both areas of the country since he lived in Syracuse for 36 years and Charlotte for the last 25 plus years.
When he's not writing, you will most likely find him spoiling his three grandchildren.
Follow Joe on Facebook.com/JoeCongelAuthor
and on Twitter: @JoeCongelAuthor
Blog: https://joecongelfictionstories.blogspot.com/
Email: jc.razzman@gmail.com
Related Content: