Book 7-Magnolia Bluff Crime Chronicles
***** Librarian Organizes the Mystery Section —- Review by Rox Burkey
Award-winning cozy mystery author, Linda Pirtle, puts the library into focus in Magnolia Bluff. Things are bigger in Texas, and Magnolia Bluff is leading the race to murder and mayhem. The citizens and writing critique group become the focus of suspense and drama as murders appear like mosquito bites on unprotected skin in the humid summers. Texas Hill Country residents will adore this page-turning mystery and share it worldwide.
Caroline McCluskey, the town librarian, finds some left a poodle pup in her home who befriends, Dewey, her puppy. Soon after, several other folks unexpectedly find black and white furballs friends. Somehow the puppies are linked to the dead bodies, but that makes no sense. Involvement by Chief Jager provides a challenge Caroline cannot resist. As she unravels the clues, she places herself at risk and finds the sparks igniting between her and the Chief.
The deliciously complex mystery uses many of the town's beloved characters. Several victims get buried while others are taken to the hospital as Ms. Pirtle deftly aligns the pieces of this complex puzzle. From the beginning, the author takes readers on an intriguing action-filled adventure with lies, deception, and murders to keep the pages flipping. Readers will love this excellent cozy with an ending no one sees coming. I doubt anyone else uses Dewey Decimal in this manner. I highly recommend this as a stellar installment of the first season of the Magnolia Bluff Crime Chronicles. But wait…there's more coming.
Don't forget to check out the entire series. WOW.
About the Author
Linda Pirtle is a retired educator who taught the art of writing and understanding literature for years as an English teacher. Linda Pirtle's cozy mystery series The Games We Play features the "lady next door" and includes four novels: Book One, The Mah Jongg Murders (earned a five-star Readers Favorite Award); Book Two, Deadly Dominoes (Best Cozy Mystery Texas Authors 2018); Book Three, Tarot Terrors (Best Cozy Mystery Texas Authors 2019); and Book Four, Scrabbled Secrets (2020). The Christian series reveals how people bent on evil can ruin a game. Linda lives in Fort Worth, Texas, with her author husband Caleb Pirtle III and their Standard Poodle named Piper.
Visit their website at calebandlindapirtle.com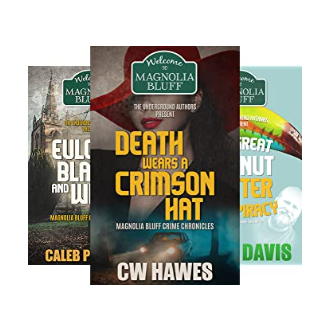 Magnolia Bluff Chrime Chronicles
Related Content: