Review by Rox Burkey
Ari Mason was driven out of her coven and forced to find her own way in the world. Living in Houston she reads tarot cards, tends bar, and desperately tries to control her black magic fire power. Along with her pursuit of positive magic applied with herbs, amulets, crystals, and teas, she finds herself drawn to help those who need her compassion. Her dearest friend, Leise, is injured by dark magic which results in them both being caught up in a series of horrific events caused by dark magic. Ari draws upon her knowledge of ghosts, ancient magic, witches and Druids to try to bring together white and black witches to fight the evil blood magic stalking all witches. A great paranormal read with a modern twist, powerful female lead character, and unexpected insights to this influential gray witch and the significance Beltane or lucky fire as it is known.
RR Born has a variety of characters who entwine through the multiple story threads. I was drawn to two of the characters. First, Remy-Pierre Arceneaux a companion and ghost to Ari who provides insights and directions, with an unshakeable loyalty. Born's description grabbed me from the start. Ari had accidentally released Remy-Pierre from a cursed locket when she was eight. He always appeared as he died, a Private in the Civil War. A young man of twenty with black hair, two deep dimples, and haunting blue eyes. His Union uniform had light blue pants, black boots, and the dark blue jacket that hung unbuttoned and a bit too big. He told her his family didn't believe in slavery… Second, Elizabeth, the white witch who runs the White Cauldron and vouches for Ari with her white witch coven. I found these two characters endearing, encouraging, and supportive of Ari as she is finding her way to embracing herself as a gray witch.
It is clear this story is well-researched on not only witchcraft, but the entire surround of magic, spells, and lore. The results are a merry paranormal of good versus evil with only a hint of romance rather than the steam often found in this genre. Young and old adults will thoroughly enjoy the interesting characters taken from modern day. Enjoyable from start to finish
About the Author-R.R. Born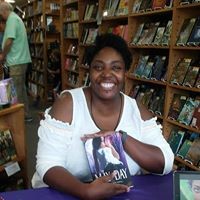 RR Born started writing short stories in fourth grade and continued to write screenplays & make short films while in film school at Long Island University.  She worked as a Production Coordinator on court TV shows like Judge Alex & Cristina's Court and has worked as a Second Assistant Director for local commercials and various cable shows. During her many years working in television, she never stopped writing.
She graduated from Houston Community College where she studied Photography, then graduated from Long Island University in Brookville, New York.
You will never find her without a pen and pad, or a story idea. Today RR Born lives in Texas with her husband and orange tabby terrier name Pele. Follow her on Facebook, subscribe to her newsletter and check out all her new and upcoming books. Email her at Ray@RRBorn.com
Related Content: