***** Compelling Historical Fantasy Review by Rox Burkey
In Curse of Clansmen and Kings Book 1, Author Linnea Tanner creates the world of 24 AD, complete with the mysticism of Celts and the military force of the Romans. With all the elements of passion, treachery, magic, mythology, and love detailed like a fine tapestry telling the story of the Celtic king's daughter. Catrin's journey shows she is a strong princess who fights for her kingdom and family.
The characters are well developed, matching the intense imagery of each element of the story. Catrin was my favorite character. This strong woman grows and evolves as she comes into her abilities to fly with the Raven and see what he sees. As she matures, she finds her heart going to a warrior on the other side of the battlefield, opening up a threat from a powerful Druid. This love risks her family, her country, and potentially her own life.
Author Linnea Tanner is a master at weaving tension between the characters as she layers conflicts to move the plot forward at a breakneck speed. The power of Ms. Tanner's writing spoke to me in the exchange between Mor and Catrin. This illustrates the pawns women were in that period to forge alignments for money, power, and influence.
"Have you told anyone besides me?" Catrin asked, her stomach still lurching from Mor's disclosure.
"I haven't even told Belinus." Mor's voice became unsteady, tripping and stammering at times. "If I tell Mother … I do not know what … what she will do. Earlier this month, I told her I refused to marry Adminius. It is my right as a free woman to choose … my own husband. Mother lashed out, saying Father makes the final decision."
Mor paused, wiping some tears from her reddened cheeks. "Why would Father place all the burden of brokering a peace pact with Cunobelin on me? Why must I be the one to sacrifice my life to forge a political alliance through my marriage with a man I hardly know? The gods curse me! If Father's negotiations fail … because of me, because I am with child, everyone will blame me. Who knows what Father and Mother might do … to me, to Belinus. Father could disown me … flog Belinus, flog me … banish us …" Mor's voice faded as she sank her head into her hands, her chest heaving from loud sobs.
Sitting down, Catrin wrapped an arm around her sister. She pulled Mor closer to stroke her thick, dark hair and reassured her. "Our parents would never do that to you. Be patient. In their hearts, they know you have the right to say no to any marriage they arrange. Besides, in the eyes of Mother Goddess, you and Belinus were married the moment you first made love."
Mor pulled away and shook her head. "Why would Father jeopardize our kingdom for my happiness? Mother never had a say about marrying him either."
This gifted author writes beautifully, for me, on par with classics like Homer. I found it hard to put down. I highly recommend those who enjoy historical fiction with strong female characters.
I look forward to the next book in this series. Author Linnea Tanner is high on my list of preferred authors.
About the Author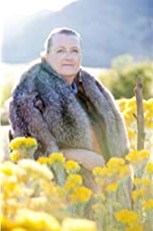 Award-winning author, Linnea Tanner, weaves Celtic tales of love, magical adventure, and political intrigue into the backdrop of Ancient Rome and Britannia. Since childhood, she has passionately read about ancient civilizations and mythology which held women in higher esteem. Of particular interest are the enigmatic Celts who were reputed as fierce warriors and mystical Druids.

Depending on the time of day and season of the year, you will find her exploring and researching ancient and medieval history, mythology and archaeology to support her writing. As the author of the CURSE OF CLANSMEN AND KINGS series, she has extensively researched and traveled to sites described within each book.

A native of Colorado, Linnea attended the University of Colorado and earned both her bachelor's and master's degrees in chemistry. She lives in Windsor with her husband and has two children and six grandchildren.
The author, after early retirement, is thrilled to return to her childhood love, writing stories. In addition to writing, she enjoys reading, watching old movies, rummaging in thrift stores, and walking in the woods . . ., if there aren't too many bugs.
You can find and follow Linnea Tanner
Related Content: