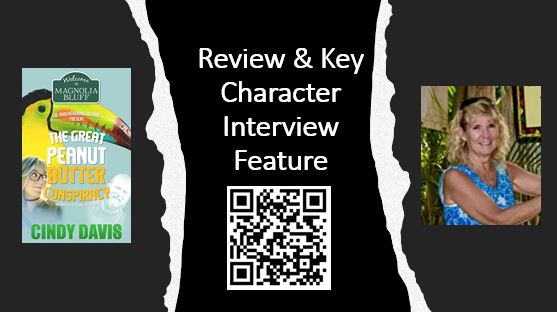 Hi Friends. Thank you for visiting my blog today. Please leave a comment below. I have a special treat today, in addition to my review of this book. I grabbed a few minutes with two characters within this story and they answered some questions on the fly. I thought their candid responses were delightful.
***** Murder and suspense in a small town —— by Rox Burkey
Author Cindy Davis adds the third book to the incredible Magnolia Bluff Crime Chronicles. Bliss loves riding her motorcycle, eating pizza, singing Jimmy Buffet songs, and learning new things. She's never met a stranger and proves it when her bike breaks down on the edge of Magnolia Bluff. This endearing girl gets someone to work on her bike, gets a job, and befriends a Toucan named Diablo.
Author Davis teases out the attributes of Bliss and all the characters with realistic interactions. When Merrick Doyle, father to her benefactors and owner of Diablo, appears in his ghostly embodiment, he is delighted that Bliss hears and sees him. They team up to find his murderer. The early conversation between them sets the tone of their relationship.
This is too freaky. "Okay, guy, we have to set some ground rules for this relationship. I need privacy."
Understood. There is silence, and I close my eyes again, but he continues, By the way, I'm pretty sure you can talk to me from inside your head. You know, think at me. Then you won't shock people.
The mystery grabs the reader from page one with unexpected twists and turns, flashes of whimsy, and characters you'll want to meet next time you visit Magnolia Bluff. A fun element of this story is the clues come from the lyrics of Buffet songs into Bliss's mind. Making the connections to identify the culprit takes input from the ghost, the toucan, and several town folks.
I highly recommend The Great Peanut Butter Conspiracy by Cindy Davis for lovers of murder mysteries with a distinctive flair. CW Hawes and Caleb Pirtle III delivered the two previous books in this series with their style and characters that you won't want to miss. This unique town has a penchant for crime, and the Underground Authors will share their stories, each as a stand-alone reading treasure.
Special Character Interview
Chat with Bliss
Did you realize initially that Merrick and his son had issues when you first met Ethan? I met Ethan before meeting Merrick. My first impression of him was that, although he's a friendly, polite, and helpful guy, he doesn't seem like the work-a-holic type. He is happy to skate along keeping out of conflict and the daily 9-5 grind. How can I complain? Am I any different? I do, though, have a different impetus for my behavior. 

After meeting Merrick, who toiled for long hours at the expense of his family life, getting the general store opened and turning it into a success, I realized where the animosity came from. I was glad when Ethan came into himself, deciding to attend architectural college. In this, I see him designing amazing buildings and homes—just not here in Magnolia Bluff. Let's keep it a place where "everybody knows your name".

How has your relationship with Diablo changed since The Great Peanut Butter Conspiracy? I really dislike when people treat their pets like people, but jeez-looweez, how many of their pets have psychic powers? Every day Diablo surprises me with his abilities. I mean, how can he know who commited a crime before it happens?

Do you and Olivia talk often? No. Our relationship is just as customer and pizza parlor owner, which makes it very strange how she can intuit what I want on any pizza, at any time. It's not like I choose 'regular' toppings like pepperoni and cheese or sausage and green pepper. I like combos such as chorizo, onions, and olives. There's very little chance anyone could guess things like that. So how does she do it? Shh. I'm going to tell a secret. She divulges it in the next book of the series, titled Boogie Woogie Chase. I'm still amazed at many of the things happening in this town.
How often will you return to Magnolia Bluff? I never plan to return. Accent on the word PLAN because, somehow I keep being drawn back here, mostly in situations completely out of my control. Like in the next story where I return in the back of Tommy's cruiser because my boyfriend—don't ask—has been murdered. Hey, at least he doesn't handcuff me. 
Chat with Tommy Jager
How did you feel about Bliss when you first met her? She had—still has—a way of tugging a person in several directions at the same time. One day I joked with Hans that I felt like she was a half-dozen people rolled into an adorable package. I mean, she's homeless, which gives the impression she's uneducated and poor, of which she neither. She's sometimes funny and sometimes serious. Never a dull moment around her. One of the best things about Bliss is that she can dissect a clue faster and more accurately than a damned computer.
Do you believe she communicates with Diablo? Or is she making up stories? Are you kidding? How can a person communicate with a bird? A BIRD.
What is your relationship with Bliss now?  Do you want that to change? I admire her spunk and intelligence. If she were twenty years older… 
That said, if age weren't a factor, I'd still be out of the running as I'd have to get in line behind Hans Winkler, and I'm not sure our friendship could withstand that.
About Cindy Davis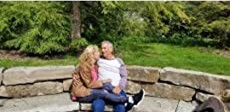 Cindy is best known for her murder mysteries and romantic suspense, many of which were set in her home state of New Hampshire. And have achieved considerable success. Now, a transplant to Florida, Cindy has found herself changing not only place of origin but also genre since her latest work is a New Age fiction penned with her husband Rick
She is an award-winning freelance editor who's worked in both fiction and nonfiction with over a thousand authors.
Click to visit with CIndy Davis
https://www.cindydavisauthor.com/monthly-newsletter
https://cindydavisauthor.com/blog
https://www.cindydavisauthor.com
https://www.fiction-doctor.com
Related Content: