review by Rox Burkey
This is a collection of the adventures of Sir Pigglesworth. This mischievous, good-hearted piglet gets himself into some really wild situations. Designed for children 5 – 10 these tales allow children to learn about people of all kinds, places, behaviors, and friends. There are English and Spanish versions of each story available. The graphics are fun and engage readers young and old. Having read each of these stories,
Book 1 – Sir Pigglesworth's First Adventure, 76 pages
Book 2 – Sir Pigglesworth's Adventures in Vancouver, 82 pages
Book 3 – Sir Pigglesworth's Adventures in New York City, 92 pages
Book 4 – Sir Pigglesworth's Adventure in Pigonia, 84 pages
Book 5 – Sir Pigglesworth's Adventures in Bermuda, 82 pages
Book 6 – Sir Pigglesworth's Adventures in Cozumel, 82 pages
Book 7 – Sir Pigglesworth's Adventures in San Juan, PR, 80 pages
Book 8 – Sir Pigglesworth's Adventures in Pigeon Forge, 82 pages
I can heartily recommend this set or any of these stories to parents and grandparents as a way to get their children excited about reading, learning, and travel.
Each book is very situational. Sir Pigglesworth has a knack for making choices that can get him into predicaments when his royal parents aren't around. Thankfully he finds friends in book 1, JoAnn and Bill, who often come to the rescue and provide guidance to the silly piglet. This amazing piglet learns how to stretch his wings while gaining confidence, just like we want for all our children.
I really enjoyed the settings for the stories because it allows learning about places or events, interacting with lots of different types of people, and ways for children to be safe. For example, in book 1, Sir Pigglesworth meets the queen of England. It just so happens when I read this book I was in London via Heathrow. The drawings and the storyline are perfect for children to learn about travel and keeping close to their parents in unfamiliar territory.
Lessons are woven into the fabric of each story with humor, silliness, love, friendship, being nice to others, and family. These can be read is any order after book 1. I feel the setting of Sir Pigglesworth and his relationship with JoAnn and Bill established there is key to understanding the series.
I love the premise of the stories and appreciate that this award-winning author is so focused on helping children learn. These make great gifts for children. They are fabulous bedtime stories or just cuddle up and share time as children engage and learn to read it themselves. The best part is that they can be read over and over without being tedious.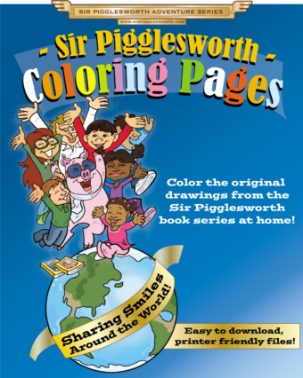 The website provides an expanded view into the series. The free coloring book and questions help children gain the comprehension elements from the stories while having a blast. Everyone loves to color and this shows how talented little ones can be whether they color inside or outside of the lines.
There is also a jingle that children will love learning as they sing and dance to the catchy tune. It is the poignant message from the Queen that will delight young readers. Exploring the possible is what this site provides to children so I recommend you visit it often to find what's new.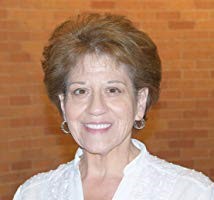 After being in the medical field for 35 years, JoAnn Wagner became an author of children's books in 2014. That unexpectedly came about when her pastor gave out pink flying pig stress balls and asked the congregation to take the pig everywhere they traveled over the summer and post pictures to Facebook.

JoAnn noticed right away that people loved to pose with "Sir Pigglesworth" as she dubbed him. They smiled and laughed. The idea that he "shared smiles with everyone he met" stayed with her and that became his logo.

JoAnn says, "I can't believe I'm a published author! It was the furthest thing from my mind when I considered what my retirement would be like. I love doing book signings at local bookstores and readings at schools, libraries, daycare centers and churches."

JoAnn and her husband Bill live in Mesquite, TX and they travel a lot with their hoofed friend to do research for his adventures. She has published 8 books in the series so far with more to come!

She's having the time of her life – come share it with her! If you see her at an event you can get a photo with Sir Pigglesworth and perhaps one to take home. Follow JoAnn on Twitter -@AuthorJoJo -, Facebook and Instagram.
David Darchicourt is an illustrator, graphic designer, prepress designer and marketing/branding expert with 19 years of professional experience. He brings to life the adventures of Sir Pigglesworth with his one of a kind, original graphics, illustrations, caricatures with beautiful layout and design! JoAnn loves the collaborative aspects that David offers as they work on projects and appreciates his insights.
During his career, he worked in the National Security Agency as a Graphic Designer and Art Director, creating original graphics for NSA top leadership. have created award-winning posters and received top performance awards from my organization. He has worked on teams and led groups of designers to successfully complete projects on schedule. In 2012, he formed David Darchicourt Design. Since then he has established a strong customer base with an ongoing stream of referrals. His work ethic is to go beyond expectations.
Related Content: