Hi. Welcome to my featured blog post today. Go to end for your chance at the GIVEAWAY!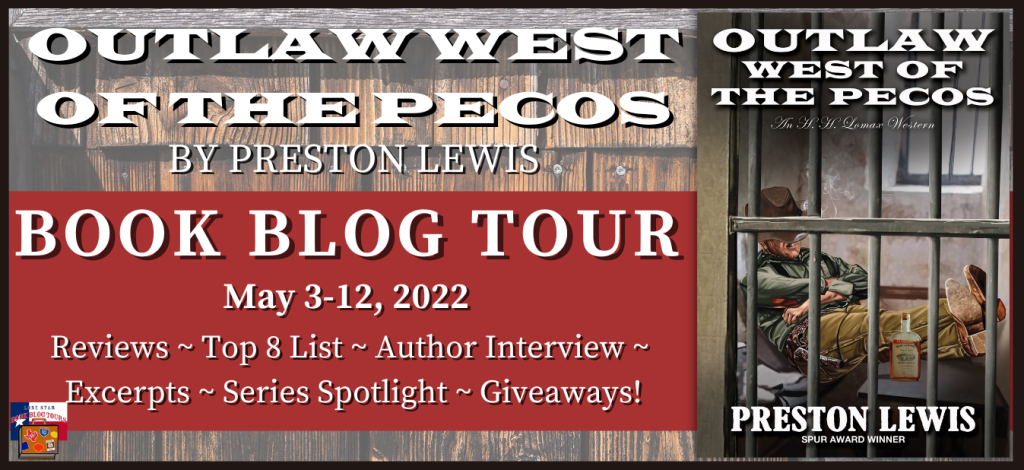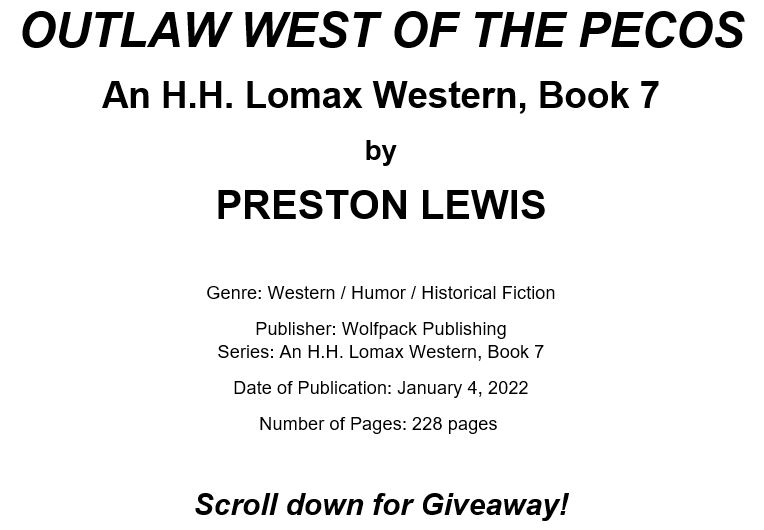 Accused of cheating at cards on a Southern Pacific passenger train in far West Texas, H.H. Lomax is kicked off the train and finds himself at the mercy of the unpredictable justice of Judge Roy Bean, who calls himself "Law West of the Pecos." After being fined of all his money, married, and divorced by the judge in a matter of minutes, Lomax discovers an unlikely connection to him.
Against a backdrop of a pending world heavyweight championship bout, Lomax heads to El Paso to interest someone in writing and publishing Bean's biography. He winds up in an El Paso boarding house across the hall from Texas killer John Wesley Hardin. They despise each other, but Hardin fears Lomax's straight-arrow Texas Ranger brother and treads lightly around Lomax. Because of Hardin's crooked connections in El Paso, Lomax gets caught between him and corrupt constable John Selman.
El Paso is becoming the focal point of efforts to host a championship prizefight that everyone from the Presidents of the United States and Mexico to the governors of Texas, New Mexico Territory and Chihuahua have vowed to stop. Calling on his connections to his Ranger brother, El Paso officials and the promoter of the boxing match, Lomax uses his Judge Roy Bean friendship to pull off the oddest prizefight in heavyweight history.
Outlaw West of the Pecos stands as an entertaining mix of historical and hysterical fiction.
CLICK TO PURCHASE!
│Amazon│


Author Preston Lewis sets the stage for HH Lomax to wind up in Langtry Texas when he's caught cheating at cards during a train ride. The four Texas cattlemen he played poker with attempted to throw him off the train, but the conductor saved him. It is the first of many situations where Lomax pulls victory from the jaws of defeat.
Langtry is run by Judge Roy Bean from the comfort of his courthouse turned saloon depending on his most pressing issue. The nickname for this venue is the Jersey Lilley and her portrait hangs inside. Bean relieves Lomax of the five hundred dollars hidden in his boot and requires ten days of jail time. The unconventional jail is inside a cage with a honey loving bear, Bruno. Trust me you'll want to keep track of this bear.
The author gave me a detailed picture and chuckle with the description of Langtry contained in the following excerpt. The only thing that captured by imagination better was tagging the hero as 'Leadeye' Lomax. Heck, I'm still chuckling and likely will for days.
Shortly, the train slowed, and the engineer cut loose with his steam whistle announcing the approach. What I saw was a scab of a gray clapboard town hugging the railroad track, the depot on the north edge of the tracks and beyond it a few scattered buildings, including one festooned with signs proclaiming Judge Roy Bean as a notary public and justice of the peace. Other clapboards named the place THE JERSEY LILLY and advertised cold beer. The biggest sign of all hovered over the steps leading to the shady front porch, reading LAW WEST OF THE PECOS. On the far side of the building, I could see a variety of animal cages and, most curious of all, a black bear chained out in front of the saloon.
The variety of historical characters incorporated into this tale include Bat Masterson, John Wesley Hardin, Texas Rangers, Oscar Wilde, and John Selman shows you how connected Lomax is with the current list of who's who from this time-period. The world championship boxing match that lawmakers refuse to allow, is nothing short of remarkable.
This is my first taste of Preston, but I added several of the other stories in my must-read tab. I love the premise of the book and detailed writing that brings it alive. This is book 7 in the series but stands alone. I recommend this for lovers of Texas history, especially when delivered tongue-in cheek. References to gun carry, highlights of the west, and unruly times in El Paso provides a history lesson students don't get today in school. Readers will keep turning pages to laugh, to cry while they laugh and to find out if this Lomax is really the man with the luck of the Irish. The writing is easy reading, fun, entertaining, and may hit your tickle bone into overdrive. Thanks for the fun, Preston Lewis.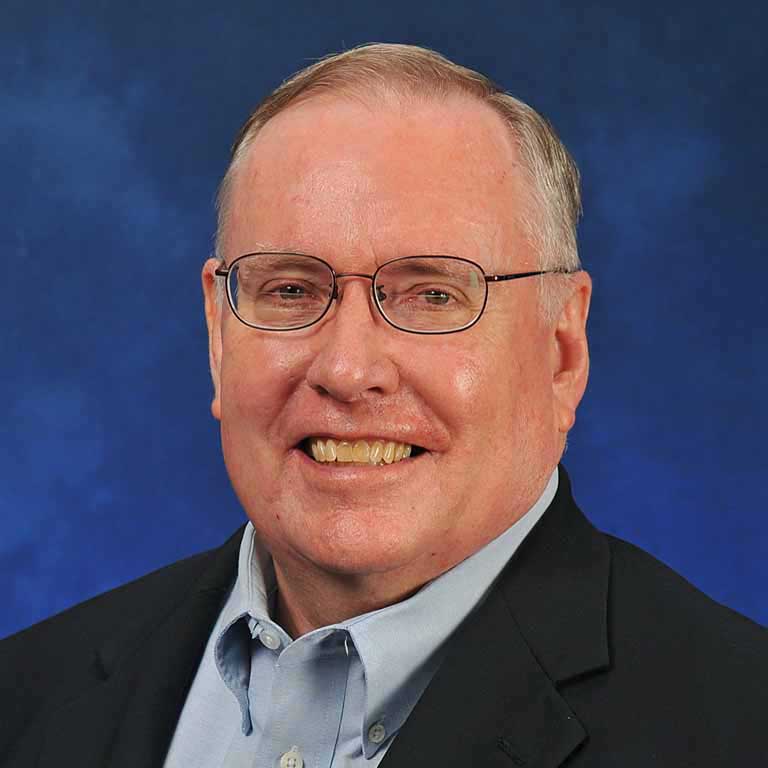 Preston Lewis is the Spur Award-winning author of 40 westerns, historical novels, juvenile books, and memoirs. He has received national awards for his novels, articles, short stories, and humor.
In 2021 he was inducted into the Texas Institute of Letters for his literary accomplishments. Lewis is past president of Western Writers of America and the West Texas Historical Association.

His historical novel Blood of Texas on the Texas Revolution earned a Spur Award as did his True West article on the Battle of Yellow House Canyon. He developed the Memoirs of H.H. Lomax series, which includes two Spur finalists and a Will Rogers Gold Medallion Award for western humor for his novel Bluster's Last Stand on the battle of Little Big Horn. His comic western The Fleecing of Fort Griffin and two of his YA novels have won Elmer Kelton Awards for best creative work on West Texas from the West Texas Historical Association.
He began his writing career working for Texas daily newspapers in Abilene, Waco, Orange and Lubbock before going into university administration. During his 35-year career in higher education, he directed communications and marketing offices at Texas Tech University, Texas Tech University Health Sciences Center, and Angelo State University.
Lewis holds a bachelor's degree in journalism from Baylor University and master's degrees from Ohio State in journalism and Angelo State in history. He lives in San Angelo with his wife, Harriet.
◆ WEBSITE ◆ FACEBOOK ◆ AMAZON ◆ GOODREADS◆

———————————————-
GIVEAWAY! GIVEAWAY! GIVEAWAY!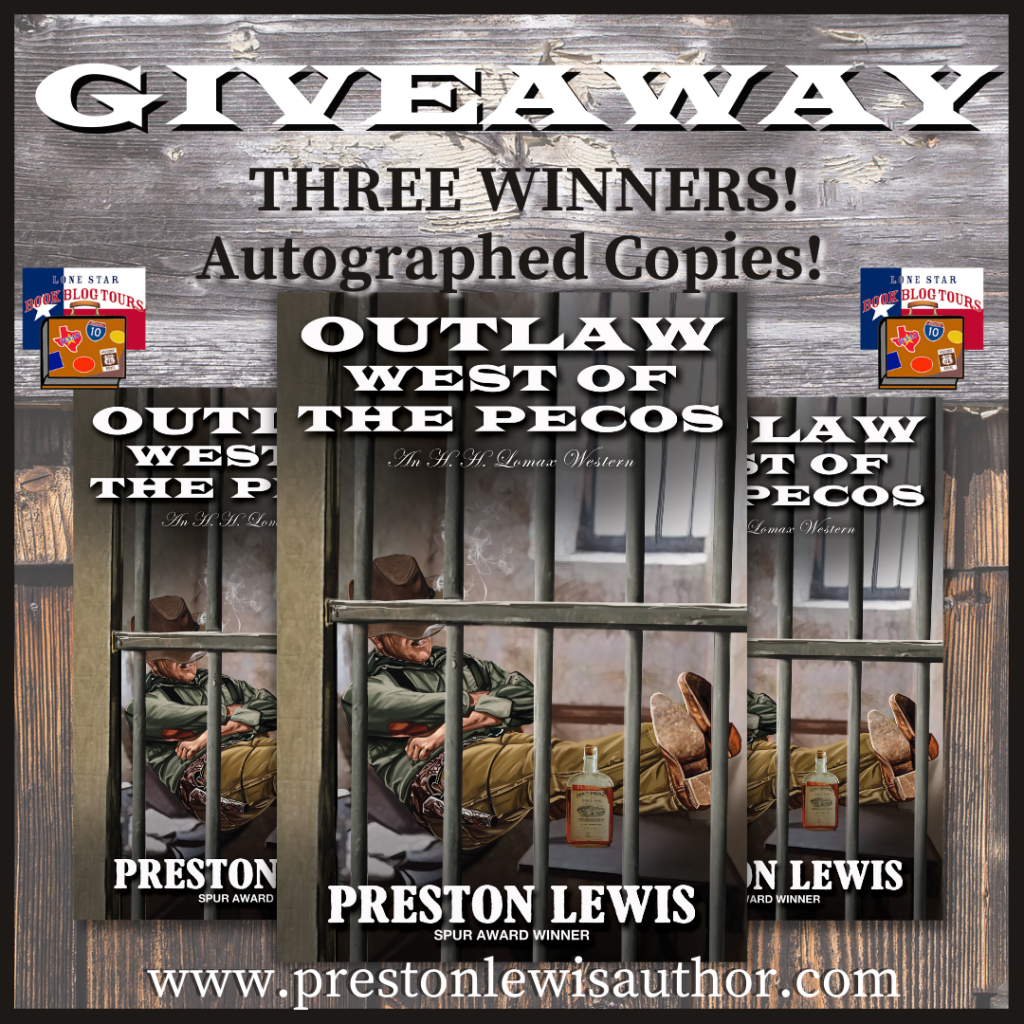 a Rafflecopter giveaway
CLICK TO VISIT THE LONE STAR LITERARY LIFE TOUR PAGE
FOR DIRECT LINKS TO EACH POST ON THIS TOUR, UPDATED DAILY,
or visit the blogs directly: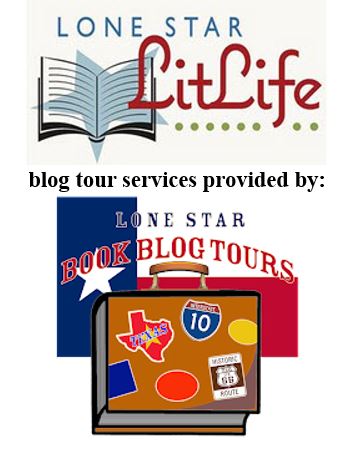 Related Content: