***** Non-Stop Action, Danger, and Suspects —- Review by Rox Burkey
Killer Motives: A Hudson Valley Mystery brings historical beliefs of the area to the forefront. Nick and Victoria Mancusio, married, planned to have a family. The secrets they've not shared throughout their marriage place an invisible wedge between them. When Angie, Nick's real estate client, is murdered, the secrets power out as if someone opened Pandora's box. Partial truths and omissions make identifying the killer suspenseful as listeners dive down the possibilities only to find something is missing.
Ms. Traymore knows how to create unique characters. The descriptions of the places bring into sharp focus vivid pictures in the listener's mind. The non-stop action and suspense are outstanding. Nick and Victoria are painted with different brushes, yet they complement one another. Nick admits to having a fling and swears the woman threw herself at him. Victoria's trust is destroyed, yet she loves him. She doesn't believe he's a murderer and sets out to help prove her point. They are likable and relatable individuals. Jack Stark and Lexi Sanchez are a perfectly matched pair of detectives. Both moved from the city to the smaller town and are adjusting. To a degree, Jack is mentoring Lexi. The development of these characters during the story shows their depth and makes them more likable. They're the quintessential pair to bring different perspectives to cases, frequently with some delightful dialogue banter.
The voice of Robin McAlpine is perfect for this mystery. The narration portion has perfect emphasis to maintain the tension. The dialogue voices never miss a beat in conveying who is speaking. The story moves along at a can't stop listening speed. There were no issues with the quality of the audiobook.
Fans of suspense and series will enjoy this story from beginning to end. I know I'm looking forward to book 2.
About the Author
Bonnie Traymore is the award-winning author of suspenseful, page-turner, domestic and psychological thrillers that hit close to home. Her books consistently hit the hot new release page on Amazon. Her thrillers have been described as entertaining page-turners. They aren't overly graphic and sometimes include occasional touches of romance and humor, but all in service of a fast-paced thriller read. The plots touch on disturbing topics such as sexual assault, revenge, murder, psychological disorders, and the complexities of human behavior, so they aren't exactly cozy either. She aims to entertain and engage readers, and maybe freak them out a bit, but not give them nightmares. FYI, she likes to include multiple points of view in her books. If you like that, her books might be for you. Originally from the New York City area, she lives in Honolulu with her family but frequents Hudson Valley, New York City, and the Bay Area. She has been reading mystery and thriller novels her entire life, and she's been writing short stories and non-fiction for decades. She is also an award-winning non-fiction writer, historian, and educator. She's taught at top independent schools in Honolulu, Silicon Valley, and New York City, and she's taught history courses at Columbia University and the University of Hawaii. Find more information on her website.
About the Narrator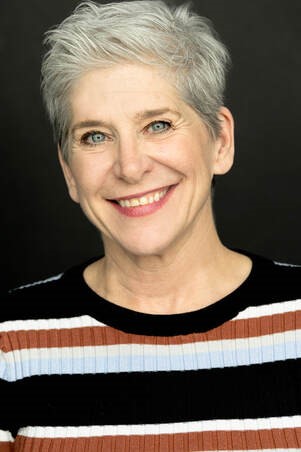 I'm a classically trained actress with 25 years in theater & film. I've completed over 30 audiobooks and countless voiceovers. I grew up in British schools and am comfortable with European & American accents. I have a professional studio in my house IMac, AT2020 mic, Scarlett Solo interface. Find Robin McAlpine on her website.
Related Content: