November 2021 with Rox Burkey
I have a fascination with author backgrounds and how each writer managed to get on the writing road. This is exactly why I am delighted to have a long chat with Keith Wright. He is a self-made man who made awesome choices during his early life. As a youth the library was a refuge and extensive learning ground. The desire to become a cop then a detective was strong enough to overcome the naysayers and succeed.
Residing and working in Nottingham England, for most of his life, Keith uses that extensive knowledge for the foundation of his mystery novels.
Welcome, and thank you for joining me, Keith. Please share some highlights of your background with my readers and friends?
I first began writing detective novels when I was a serving detective in Nottingham CID. These were published by the appropriately named Constable & Co now part of Little Brown. The books did well, and I got positive reviews in the Times and Sunday Times et al, as well as winning awards.
Due to work commitments, I paused my writing, for longer than anticipated! I couldn't sustain both 'jobs' and I had baby twins and a mortgage to pay etc. – all the normal stuff. Plus, I had been promoted within the CID and I liked locking up bad guys.
In 2019 I had the opportunity to become a full-time writer and re-wrote my previous novels and created others from scratch as well as creating audio books. The new novels have done well and won awards so that has encouraged me.
One Oblique One. Short listed for the John Creasey Award for best debut crime novel. Remastered – 2019.
Trace and Eliminate-Remastered 2019.
Addressed To Kill-Remastered 2019.
Fair Means Or Foul-Remastered 2019. Awarded Distinguished Favorite in NYC Big Book Awards 2020.
Killing Dad. His own short story anthology-Newly published 2020.
Murder Me Tomorrow. Winner of the Independent Press Awards 2021 for Crime Fiction.
OTHER
Short story 'The Shift' published by Mystery Tribune in New York.
Short story 'The Missing Link' published in the CWA short story anthology – 'Perfectly Criminal.' Severn House.
Short story 'From The Cradle' published in 'City of Crime' Nottingham's leading writers. Five Leaves publishing.
Keith, we had a fun chat with a show I host for Rave Reviews, Eyes on the Book. I felt my blog visitors would enjoy learning even more about your works. I was impressed with what I believe is a different path from your murder mysteries/crime fiction, which we will discuss below. I hope you don't mind but I'd like to start with why you decided to produce the Coronavirus – 2020 Vision in three parts?
There were two things that made me consider writing the diary. One was the dawning realization back in February and March 2020 that this horrible virus was going to be a pandemic and a truly historic event that I might not survive and the jeopardy of that appealed to me. The diary could be like the world's longest suicide note.
I recognized the opportunity to be a witness, live and in the moment to something that would be spoken about in decades ahead and beyond. I thought it worth starting on that path and see where it led.
Samuel Pepys also came to mind, although I have no cheese buried in my back garden. (That I am aware of).
I knew I wanted it to be a complete record of events, but what I did not know was that I would still be writing it 18 months later.
The tome is over 600,000 words and hence is split into three volumes. I have kept each volume very reasonably priced on Kindle to afford access to everyone who wants to know all about it regardless of status or income, now and in the future.
The book is not as dry as it might seem as within the misery and mainstream stories there is always humor to find and hope in adversity. There are also many quirky stories like the Navajo Indians who found a million pounds in their account during their intense struggle during the pandemic and they couldn't figure out where it was coming from. They eventually traced it to the people of Ireland, who remembered the Navajo's sending them $170 in 1840 during the potato famine. Extraordinary, isn't it?
At the end of each day I also noted my own family's activities and how COVID had impacted upon them and us to show the virus from the street level, so to speak.
Has this diary/memoir had the impact you wished when you started releasing it?
The diary is for the future more than now. Although those interested in what happened during these historic times will find it interesting and hopefully informative were they to read it today.
Being an historical account written at the time it will never go out of date in the same way that nonfiction books written about historical events and figures are fascinating decades and even centuries later, particularly as witnessed by a participant.
I do expect that in a few years people will want to review what happened and share the experience with younger relatives. It is there waiting for them. I think they will be shocked when they do recall what actually happened.
As for immediate impact, that may lie in the field of education, as the coronavirus pandemic is to be included in the school syllabus here in the UK in the next year or so. I can't say too much about that at the moment, however.
Essentially it is for posterity, and I am absolutely thrilled with it. I think it is the most important thing I have ever done.
Had you wanted to write stories when you were a detective working for the Criminal Investigation Department (CID)?
I did write stories when I worked for the CID and my first four books were published. At the time I believe I was the only serving detective published with only a couple of retired cops in the game.
I know that you set your stories pre-Internet, which is also before many technologies available to cracking crimes today. Why do you feel this era provides for better storytelling of the nuts and bolts of crime solving?
This is because that is the era that I started writing them and when I served my career as a detective, through to 2005.
When I revisited the books recently, I could have made them contemporary, but I did not, as the heart of a good book is both story and characterization. This is preserved in this era as you had to talk to people, work with the public, and understand how people thought to get anywhere. Almost every murder is now solved by DNA, and mobile phone data.
Forensic assistance was mainly fingerprints in those days and in truth there was very little difference, fundamentally, between investigations then and in Victorian times.
The reader has no access to DNA labs, but they do have a brain, life experience and communication skills which enables them to see themselves in the detective's role, in my view.
Do your stories reflect cases you worked on or several mashed together?
They do not reflect cases I have worked on but sometimes composite elements from cases or encounters find their way in there.
To be honest because fact is stranger than fiction it can be tricky putting them in as sometimes, they seem too far-fetched even though true.
For example, in one of my books, I think it is a short story, the cop must scoop brains and cranial damage off the pavement with a spade he borrows from a neighbor, so that relatives do not see it when they return from the morgue. The cop throws the mush over the railway line nearby. That was something I did, albeit a long time ago. (After any forensic need had been addressed I hasten to add).
The Inspector Stark series I believe is at five books with multiple awards garnered by you for several volumes. How much of you is in DI Stark?
Quite a bit of me is in him. But of course, I create all the characters and so maybe there is a part of me in all of them, however, some are observed rather than innate.
He is a very calm character, in any situation, which matches my own persona. He is quite happy to kick ass if someone is violent, however, which also matches my persona!
Which one of your novels in the series is your favorite?
That is a difficult one, as truthfully, I like them all, or I wouldn't put them out. If I had to say, I would probably say the last one, Murder Me Tomorrow, although the first, One Oblique One, has a special place, naturally.
Keith, Murder me Tomorrow was my introduction to your writing. Even though it is in the middle of the Inspector Stark series, I found it a satisfying read. Visitors can click here to read my review if desired.
As a detective, did you develop the insight and second sense of where and how to investigate a given incident?
I think you do, through experience, but some people also have a natural ability to read people. The best cops do.
The core of it is human behaviours, which never really change over the decades. Also, tenacity and the need for corroboration to establish facts. The realization that when they are in a pickle everybody lies, even you and I, is also one of the fundamentals.
You also learn pretty quickly that not everyone has had your upbringing, or moral compass and you cannot use your own thought processes to second-guess a criminal. It is the same in writing.
Is your latest in the series, Murder Me Tomorrow, the last of DI Stark? I personally hope not as that was my introduction to your writing.
It most certainly is not my last Inspector Stark novel, I am currently writing the sixth, which has the working title 'Death By Decree.'
This is twinned with the recording of The Coronavirus Diary on Audible, which is enjoyable but time consuming.
How much of that investigative process did you transfer to organizing and creating your stories that compel readers to turn those pages?
I think that sometimes the investigative process could get in the way of the pace of a novel. So, while the investigation finds its own way as the thread of the book I am constantly taking a 'helicopter' view of the rhythm of the novel and this is more story telling than investigation, if that makes sense.
The beauty is that people and criminals don't have to play by the rules or act in line with the direction of an investigative process and so wild card surprises often popup to keep the reader on their toes. You can make anything happen as the writer, while not being tempted to go off piste.
Why did you decide self-publishing was your avenue of choice to deliver your stories?
I was originally published traditionally for several years but when I returned to writing some years later and able to write full-time. Tt was a different world and my agent had retired and so I started by self-publishing and this has carried on.
There is a greater freedom to it, but there are for's and against for both.
I have not pursued the agent route yet, but never say never.
The hardest element of self-publishing is not writing a brilliant book, it is getting people to read it, as I'm sure many of my brother and sister authors can relate to.
How much additional research must you do to make the stories feel realistic for the time of the story?
I don't have to do any research, or should I say very rarely. It is often the final sprinkling of minutiae such as whether bar codes in supermarkets were used in 1987, or what music was around at the time – it is more about the time than the investigative process as that is carved into my psyche.
The biggest surprise to me is that 1987 was thirty-four years ago, and I demand a recount.
Does Inspector Stark talk to you and tell you how he wants to solve the crime?
The characters often drive the story and take me by surprise, not just Stark. This is what happens when you create a circumstance for your characters to deal with and it finds its own way home if you get out of the way to allow this to happen.
I know that you blog and podcast in addition to writing. How do you structure your busy day and still make time for family?
I have worked full time (and beyond) for over forty years in the investigative world, so I have a strong work ethic. Most days I am at it from 8am until 5 or thereabouts. The thing is I love doing it. All aspects of it. I wake up every day excited at what lies ahead. Sickening, isn't it?
I have a day or so off a week when I see family and I am flexible enough to work around my writing needs to accommodate others. If I ask myself nicely I might do a bit of overtime.
I can never remember who said it, but 'the hardest thing about writing is persuading my wife that when I am staring out of the window, I am working.'
You are also the narrator for the first two books in the Inspector Stark series. How difficult was that to do and do you have that set up at home to produce a quality audiobook?
This is something that I enjoy doing, mainly because I like the sound of my own voice. (Kidding…honestly).
I have found the Coronavirus diaries easier to construct through the mic than the novels and I continue with those. It is my intention to put the others on when time allows.
I actually got my son involved with the first two, who is a fledgling actor and I thought it might be good experience and help his CV. It also made it a more complicated process to do remotely.
I will continue with the remaining novels also as I have now got a much better understanding of the production side rather than relying on my son to help.
This will make it less arduous time wise.
It does take a lot of time and effort to do audiobooks. But once they are done, they are done.
My set-up at home is merely by using my office and surround the microphone with a mini-studio type affair. Any crinkles or problems and noises are erased during the production process.
If anyone wishes to donate their sound studio, preferably on a beach in Miami, I am open to offers.
Do you find story writing stressful or just fun?
Fun, generally. I don't find it stressful in the slightest. It is a stress buster. All things are relative, I guess. I am in good company every day, surrounded by my old mates, investigating crime, in a time before the pettiness of the Internet. Plus, no-one is trying to set me up or kill me, which is a bonus.
Whilst this a fictitious world, it is also real, because this was what happened back in those times. In that sense I can get a bit sad, or emotional having climbed back into those emotions to translate them for the page.
It is true as a reader (and writer) you can live a thousand lives, but you can also die a thousand deaths.
I do like to write in a coffee shop at least a couple of times a week, as it is a change of environment and who doesn't like to people watch in between paragraphs?
What are the most positive influences in your life and how does that shape how you wake up and greet each day?
The most positive aspects of my life are my lifestyle and my family. I am finally living the dream.
A couple of things popped into my mind on reading this question and they were my mother, who was an avid reader and loved words, and oddly I also recalled a hard nut old copper, with a handlebar moustache called Sergeant Cockram. (I know).
Sgt Cockram was retiring from 30 years as a police officer when I started police training school. As we came to the end of our course, he was retiring, and he gathered us around. He said he had been thinking of what one word he could give us to cling on to during the next thirty years as he finished his time and we started ours.
What could this one word be, we asked ourselves? Could it be 'bravery?' or 'inquisitiveness?' No, nothing like that. The word he had decided upon was 'compassion. Keep your compassion.' A shiver went down my back. It took us all by surprise but my God, he was right.
You have several short stories on your website to give readers a chance to sample your writing, but you also published one. Was there a target audience for this short story?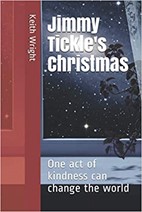 The story I published was called 'Jimmy Tickle's Christmas.' The target audience was for parents and children over 8 years old.
While modesty forbids, I love the story. It is hope over expectation and the innocent belief of a young lad, who doesn't know how much he is suffering. He has an indomitable spirit and a loving persona.
This is the beauty of self-publishing as I could publish it without batting an eyelid.
It is quite a moving story; I hope and encapsulates the spirit of Christmas in a seedy world. At least I think so.
I know from the hours you spent in the library as a youth you like to read. Do you have a favorite author and genre that you enjoy?
I love Ed McBain, the crime writer. My mother had a whole stack of his books, and I first began reading them when I was around fifteen and fell in love with them. He was a terrifically engaging writer. I suspect some of my matter-of-fact writing style comes from his influence.
He is no longer with us, but I did, bizarrely get to have dinner with him by the weirdest of coincidences. He was in Nottingham, England, during an International Mystery Convention Bouchercon (around 1992ish) and I was on the main author panel along with Ian Rankin and Peter Robinson, (I am not name dropping, honestly). He somehow ended up in our company and we had dinner. I think he was a bit 'tired.' A thrill for me none the less. Which completed the circle. Never in my wildest dreams did I think I would ever meet the guy one day.
What is your favorite activity that you do to relax?
Being with my grown-up children and my daughter who is 12 and my granddaughter who is 2. I enjoy reading and cinema-going too.
I also punish myself by watching Nottingham Forest Football team play. I am a season card holder.
Do you hope to publish your novels in multiple languages?
Perhaps. I don't know how to do that yet. Maybe you can give me a steer?
When can fans get your next story and can you give us a sneak peek into this one?
I hope that 'Death By Decree' will be out by at least the new year 2022. I have done an outline of this book, and I have started writing it 'proper' so I am well on the way.
It is the story of a young woman who in one instant clashes with the more evil people in society and her world is changed forever. Tragically.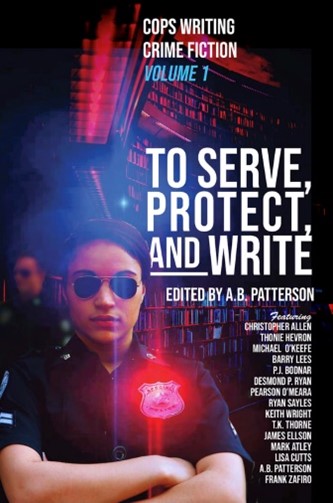 I also have a short story coming out in an anthology of 'Cops writing Crime' from all around the world and is entitled To 'Serve Protect and Write.' It is being edited by A.B. Patterson in Australia. It will be out in the next few weeks.
I am also narrating the Coronavirus diaries and these will be available on Audible and Apple ITunes soon.
Which of your writing awards are you most proud to have earned?
Tricky. I am proud of the Independent Press Award for Murder Me Tomorrow as this book was written from scratch recently. Having said that, 'One Oblique One' was shortlisted for the Crime Writer's Association debut crime novel of the year when it was first published. This is a big award in the industry. This was the first year that the competition was opened up to the USA, rather than just UK writers. I came second to Walter Mosely's 'Devil in a Blue Dress.'
You are an award-winning author, but I bet you still look at reviews. Do reader comments shape your writing?
I both seek out and look at reviews. Self publishing makes serious reviews difficult to come by, so I cherish my earlier book's reviews in The Times, and Sunday Times etc.
Nothing gives me greater pleasure than to see a review that is extremely complimentary, it makes it all worthwhile, to have touched a reader's soul is just wonderful.
I do not shape my writing by reviews – I can't get wrapped up in that. I don't write for anyone but me. I can't. I don't know the readers. I hope that if I like it, if I am moved by it, then other people out there will be also.
What sort of author groups are you involved with and why?
I am a member of Rave Reviews Book Club, which gives me an insight into what others are up to and the self-publishing world. We also support each other by having virtual meetings and try to help with promoting each other's works too.
You find yourself in a cozy bookstore in London that specializes in a variety of your favorite books and offers tea for customers. While you're looking at the shelves, you bump into a long-time favorite author (living or not) who smiles and says hello. You both move to the back of the shop and sit with a cup of tea. What questions do you wish to discuss with this author and what would you like to share with this individual?
This is tough. I would love to have met Charles Dickens. I would be fascinated to know how he paced the books as they seem random at times. Similarly how his use of language translates to today when we are encouraged to be less flowery in our prose. Maybe also the show it; don't tell it method of writing is not always adhered to by classic authors and what would his view be on this?
Do you have a favorite social media do you like to use to talk about your books?
You may be surprised to learn that my favorite social media is Tik Tok. There is some fascinating stuff on there so long as you like the right posts and accumulate the themes you like to see.
Books wise, Facebook has a couple of good author sites, which is a rarity, but these are mainly technical.
I have quite a large following on Twitter, but I remain convinced that when I tweet, it only goes out to an Indian Guru, an orphanage in Zimbabwe and a dog on Putney High Street. I must have said something that a spotty faced teenager disliked and now I am a marked man through all eternity.
Do you have any advice for up-and-coming authors?
Yes, I do. Listen to my podcast which is free and designed to help new and aspiring authors. It is called 'Murder Ink. The art of writing crime.' It is useful in parts for any genre though as much of the stuff I chat about crosses over to any genre.
It is my attempt to put something back into the industry and although they are paused currently after ten or eleven episodes I will likely do more.
They seem to be well received, as they are very practical and not at all pretentious, I hope.
Do you have any upcoming events where people can meet you and discuss your books? And is there a place on your website where people can locate where you will be making an appearance?
I don't have anything in the pipeline at the moment, but I blog it out when I am on any media or doing a signing, so check out keithwrightauthor.co.uk.
Where can folks find you and follow you.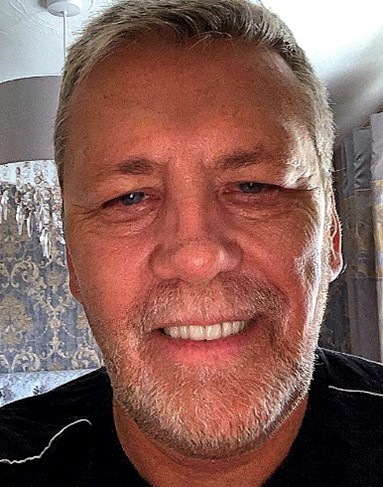 Keith, thank you so much for the discussion. I learned some new things and I bet others did as well. Visitors, please leave your comments below and share this post with friends.
Related Content: