Written by Grace Blair and Laren Bright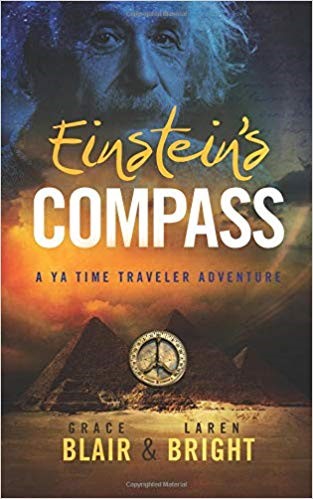 The extended combination of history and magic was an unexpected mix in this story and pulled me in from the beginning, captivating me all the way to the surprising ending. This novel takes you from the early childhood of Einstein, which includes an illness that may have contributed to his perspective on the world around him as he grew older. It's refreshing to find a combination of history, religion, and folklore told in such a compelling manner with just the right amounts of magic and suspense.
In the story Raka, the dark enemy of Einstein, pits himself against cosmic law as he hunts for power in all the wrong places. The transformational abilities he gains in his quest for domination contributes to the destruction of Atlantis. Atlantis has always been more of a folklore discussion, but perhaps that is too simplified a view. Raku is depicted as jealous from the beginning and his thoughts after being denied entrance into secrets of the light, 'My grandfather was the mighty god Atlas! Admittedly, I am meant for greatness, like him', sets the tone for his path toward evil.
The story is original and entertaining, not only as the Young Adult genre it is geared toward, but also for those adults who wonder about answers to so many questions on the spiritual and mystical plains. The case for Atlantis and Einstein's fragment of the Shamir Stone connecting actually force me to reflect on the possibilities. I have always considered Einstein's mental faculties to be at the outer edge without considering the why him. Research these authors did to bring all these details into such a compelling story is uniquely told.
I found this story to be entertaining, enlightening, and a must read for those who believe that time travel has possibilities. It is a well-crafted novel with complexities and depth that many will find a fascinating read. I highly recommend this to any adult young or older. A fascinating perspective you won't want to put down. I hope there is another book along the same lines in my future.
About the Authors:
Grace Blair is an award-winning self-help and motivational author, and podcast host, who has assisted thousands to find their spiritual wisdom to solve everyday challenges. Throughout her adult life, Grace became a serious student of the spiritual. She found that, often, psychological principles and practices were incomplete, but could be filled out by adding the missing spiritual component. Her approach was always to see practical applications for what she uncovered in the mystical. It was through immersing herself in this field of study and experience that she came up with her idea for her book, Einstein's Compass. Her non-fictions books are written under Grace Allison,
Laren Bright is an award-winning writer and three-time Emmy nominee. In addition to a long and rewarding career in advertising/promotional writing, he enjoyed a 7-year stint as a staff writer and story editor for children's television animation at Hanna-Barbera Productions and Warner Bros. Animation. He has written, co-written, or ghost-written countless books, several in the children's and young adult genres.
Related Content: