Welcome dear friends and visitors,  I am honored to welcome Ron Yates to my place. This is Day 4 of the tour. Check out all the stops on his tour to learn about Ron and his writing. Check out the fabulous giveaway below.
GIVEAWAY: (2) Complete sets of the Billy Battles trilogy. For your chance to win one, please leave a comment below!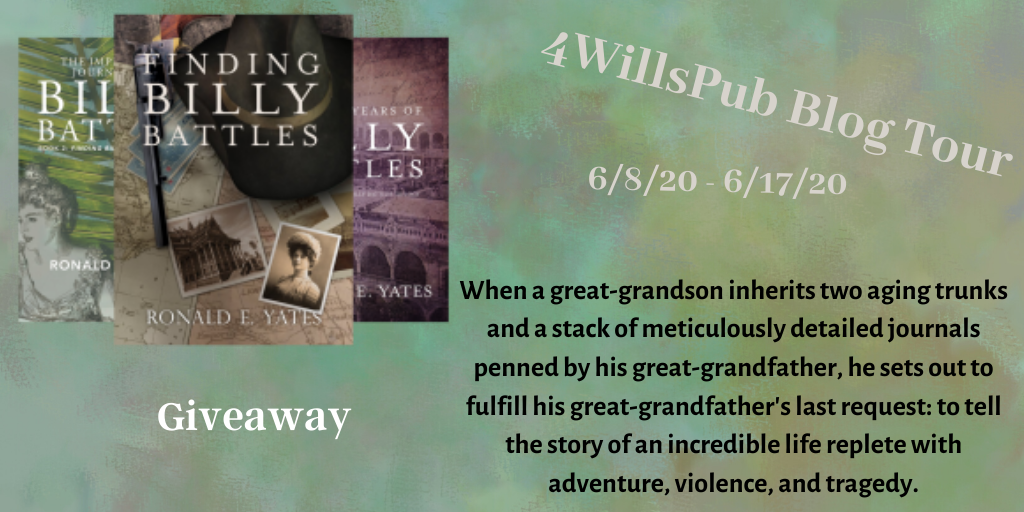 The Rules of Writing: There Are None!
For writers and those who are struggling to be writers, there is no shortage of rules, guidelines, tenets, and imperatives all calculated to turn you into a bestselling author.
They are often daunting and overwhelming and in some cases a bit terrifying.
But mostly, they are unnecessary.
Yes, I said it. Rules of writing are gratuitous, redundant, and pointless.
"What is he saying?" You might be asking yourself. "Has he gone off his mental reservation? Did somebody steal his rudder? Is he weak north of his ears?"
I have been writing, in one form or another, for most of my life. I learned the techniques and skills of writing by toiling for almost 30 years in the relentless and stressful world of journalism.
I was in some pretty good company. Ernest Hemingway began his writing career as a journalist—in fact, we both began our journalistic careers at the Kansas City Star.
Other successful authors who started as newspaper hacks include Rudyard Kipling, George Orwell, Graham Greene, Charles Dickens, Evelyn Waugh, Joan Didion, Norman Mailer, Hunter S. Thompson, Jack London, Annie Proulx, Stephen Crane, John Steinbeck, James Agee, Lillian Ross, and Mark Twain.
For 13 years I taught journalism and writing at the University of Illinois after leaving the world of professional journalism. During that time, I managed to condense my thoughts on writing into a structure suitable for the classroom.
So allow me to share my views on what writing is. What I am about to say here are not stringent rules or rigorous imperatives.
Don't forget. There are no rules. Look at my comments as suggestions or musings, but not as edicts or diktats. Writing is both an art and a craft. To be a good writer, you must first master the tools of the craft. What are those? They are vocabulary, grammar, research, style, plot, pacing, and story.
Words are your essential tools. They are your implements in the same way hammers, saws, bubble levels, squares, screwdrivers, and tape measures are the tools a carpenter must possess.
Then comes grammar. Just as carpenters must learn to respect and skillfully master their tools, so too must writers learn to skillfully manipulate words and respect the language.
If you don't respect the language, you will never succeed as a writer.
You must also give yourself time to learn the art and craft of writing. You don't learn how to be a writer by sitting alone in a room and squeezing your brain for inspiration the way you wring water from a sponge.
One of the first steps to becoming a good writer is by reading. Read, read, and read. As I used to tell my students, "If you want to write well, read well."
Learn from the best; imitate (and I don't mean to plagiarize). Listen to the words! Words speak to us from the written page, IF we let them IF we allow our eyes to open our inner ears.
Gifted writing can't be taught. It must be learned.
And we learn from doing it; from experience. That's how we gain confidence.
Let me repeat that because it is SO VERY IMPORTANT. To be a good writer, you must be confident in your ability to use the tools of the craft: vocabulary, grammar, research, style, plot, pacing, and story.
A confident writer is typically a good writer. We gain confidence by being successful in our work–no matter what work we do. We also learn from failure. Why was a book rejected 40 times? Why isn't it selling on Amazon or Goodreads or Barnes and Noble? There must be a reason. Find out what it is and learn from it. Then go back to work and make the book better.
Once you master the Craft of Writing, the fundamentals, the mechanics, the "donkey" work, then you are ready to move on to the Art of Writing.
I don't know if those who do not write for a living understand just how difficult writing is. Many believe that writers work from inspiration and that the words simply leap onto the blank page (or into the motherboard and central processing unit of a computer).
Ernest Hemingway once said: "There is nothing to writing. All you do is sit down at a typewriter and bleed."
What's a typewriter? You might ask. That's a topic for another post when I discuss ancient writing implements.
But I digress. In fact, while inspiration is a beautiful thing, it is not what makes a good writer or book. Writing requires significant research, whether fiction or non-fiction. It requires a facility for organization and a keen sense of plot, pacing, and story.
I don't believe writers are "born."
They evolve over time as a result of significant experience in the craft.
Not all writers are brooding, intractable alcoholics or unbearable misanthropes who feel their creations contain irrevocable and definitive truths that most of humanity is too obtuse to comprehend.
In fact, most successful writers are excellent storytellers, and they like nothing more than to have their stories read by as many people as possible–even if those stories don't always possess immutable truths.
And storytelling is not limited to fiction. Storytelling in non-fiction or journalism is just as important.
When I was young, I used to write lots of short stories. Were they any good? No. But for a person who wants to be a writer they were my way of practicing. Sort of like practicing the piano or the flute or some other instrument. The more you practice, the better and more accomplished you become.
Somerset Maugham, the author of such classics as The Razor's Edge, The Moon and Sixpence, and Of Human Bondage, had this to say about writing:
"If you can tell stories, create characters, devise incidents, and have sincerity and passion, it doesn't matter a damn how you write."
And that leads me to Ann Rice's Non-Advice to Writers. Ann Rice is a best-selling American author of gothic fiction, including books such as The Vampire Chronicles, Feast of All Saints, Servant of the Bones, Exit to Eden, and Belinda.
Here is what she says about giving advice to writers:
"On giving writers advice, offering "rules." I'm asked a lot about this, and people bring great lists of rules for writers to the page all the time. What do I think? I can't say it loud enough. There are NO RULES for all writers! And never let anyone tell you that there are. Writers are individuals; we each do it in our own way.
Don't ever let anyone tell you that you're not a "real" writer because you don't follow their rules! I can't tell you how much harm was done to me early in life by others judging me in that way. I was told in college I wasn't a "real" writer because I composed on a typewriter; I was condemned later on in damn near apocalyptic terms for "not writing every day."
"Real writers" are those who become "real writers." That's all there is to it. And again, we each do it in our own way. For me, stubbornness has been as important as any talent I might possess. I ultimately ignored the people who condemned me, ridiculed me and sought to discourage me. I laughed or cried over it in secret; and went right on writing what I wanted to write, the way I wanted to write it.
I knew of no other way to become the writer of my dreams. If you want to be a writer, go for it. Critics are a dime a dozen, and people who would love to see you fail are everywhere. Just keep on going; keep doing what works for you. Keep believing in yourself."
Ann Rice has said it well. You must believe in yourself and your work because if you don't, who will?
About the Author
Ronald E. Yates is a multi-award winning author of historical fiction and action/adventure novels, including the popular and highly-acclaimed Finding Billy Battles trilogy. His extraordinarily accurate books have captivated fans around the world who applaud his ability to blend fact and fiction.
Ron is a former foreign correspondent for the Chicago Tribune and Professor Emeritus of Journalism at the University of Illinois where he was also the Dean of the College of Media.
The Lost Years of Billy Battles is the final book in the trilogy and recently won the Independent Press Award's 2020 Distinguished Favorites Award. In 2019 it also won Best Overall Book of the year and the Grand Prize in the Goethe Historical Fiction Category from Chanticleer International Book Awards as well as a Book Excellence Award and a New Apple Award. The second book in the trilogy, The Improbable Journeys of Billy Battles, was published in June 2016. It won the 2017 KCT International Literary Award and the New Apple Award in the Action/Adventure category. The first book in the trilogy, "Finding Billy Battles," was published in 2014 and won a Book Excellence Award and Laramie Award from Chanticleer International Book Awards.
As a professional journalist, Ron lived and worked in Japan, Southeast Asia, and both Central and South America where he covered several history-making events including the fall of South Vietnam and Cambodia; the Tiananmen Square massacre in Beijing; and wars and revolutions in Afghanistan, the Philippines, Nicaragua, El Salvador and Guatemala, among other places. His work as a foreign correspondent earned him several awards including three Pulitzer Prize nominations.
Ron is a frequent speaker about the media, international affairs, and writing. He is a Vietnam era veteran of the U.S. Army Security Agency and lives just north of San Diego in Southern California's wine country.
SOCIAL MEDIA LINKS:
-Twitter https://twitter.com/jhawker69
-Facebook https://www.facebook.com/ronaldyatesbooks/
-Website https://ronaldyatesbooks.com/
ABOUT THE FINDING BILLY BATTLES TRILOGY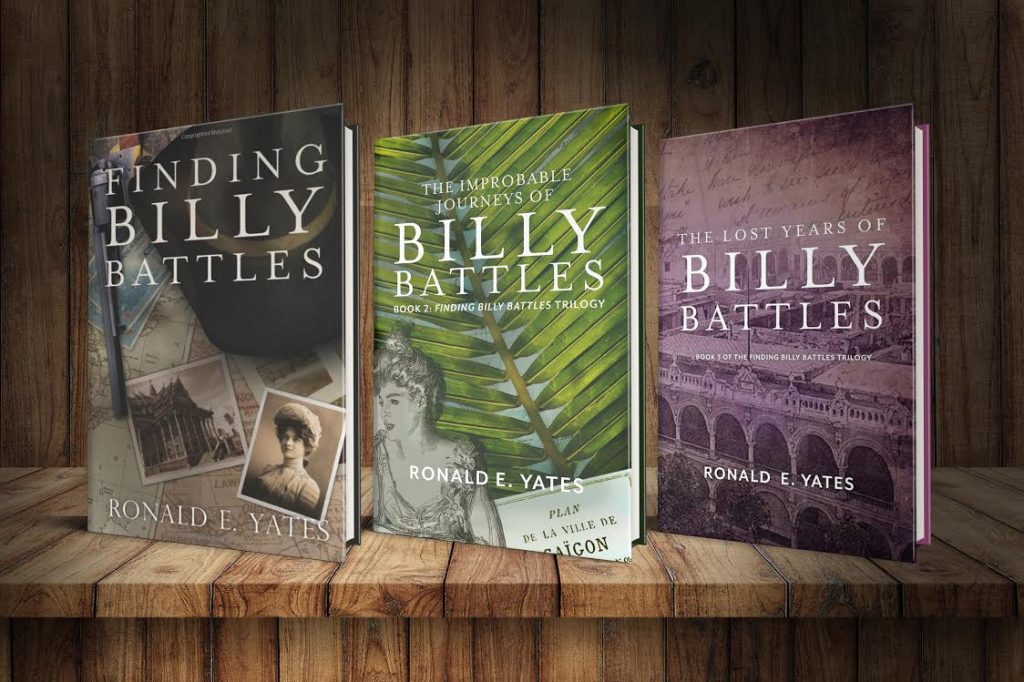 The Finding Billy Battles trilogy tells the story of a remarkable man who is born in 1860 and who dies in 1960. For decades Billy lives an improbable and staggering life of adventure, peril, transgression and redemption. Then Billy mysteriously disappears. For several decades his family has no idea where he is or what he is doing.
Finally, with his life coming to an end, Billy resurfaces in an old soldiers' home in Leavenworth, Kansas. It is there, when he is 98 that he meets his 12-year-old great-grandson and bequeaths his journals and his other property to him — though he is not to receive them until he is much older.
Years later, the great-grandson finally reads the journals and fashions a three volume trilogy that tells of his great-grandfather's audacious life in the old west, as well as his journeys to the Far East of the 1890s—including French Indochina and The Philippines—and finally, in the early 20th century, to Europe and Latin America where his adventures and predicaments continue. One thing readers can be sure of, wherever Billy Battles goes trouble is not far behind.
PURCHASE LINKS:
Amazon:
Related Content: