**** Multi-generation Family Values Review by Rox Burkey
Authors Mara Purl and Kensington Norfleet create a winter wonderland set in the Colorado Mountains. The holiday event brings together a three-generation family to enjoy snow, skiing, and singing. The mysterious figure seen by the children, Kristie, and Kai, sets the stage for this charming paranormal.
The characters are well-developed in this magnificent snowy world. I liked how Kristie and Kai enjoyed time with the extended family. Laughing and having fun. The first inkling of paranormal grabbed me early and I liked how Kristie shared this with Kai first. The segment below illustrates Kristie's attention to details.
But just then, Kristie noticed a woman also looking for snacks. I don't like to be rude to people, but she looks odd, almost like she's wearing clothes from some history play.
Kristie stared at her for a moment, noticing that her hair was fastened in a tight bun that was just visible beneath the bottom edge of a bonnet tied with ribbons. And as she walked down the aisle, her wide skirt nearly swept the floor.
A few minutes later, when the family was back in the car and continuing their drive, Kristie leaned over to her brother. "Did you see that strange woman in the store?"
Kai shook his head. "Nope. I was just busy getting my chocolate milk."
Short stories sometimes miss rich details that engage readers. In Mystery Sleight ride you can feel the chill in the air, enjoy the softness of fresh snow wrapping around, and hearing the voices from a connected family. One can almost smell and taste the family meals.
I've read other stories by Mara Purl, but this is also a fun introduction to Kensington Norfleet. I recommend this story for those who enjoy family traditions. This one may make you want to plan your next destination in the majestic Colorado mountains. You'll enjoy the recipes in the back of this delightful, sweet story.
About the Authors
Mara Purl is a best-selling author whose books have won more than 40 awards. Her holiday novellas include Where an Angel's on a Rope, When Angels Paint, and Whose Angel Key Ring. Find out more about her books and performances at www.MaraPurl.com. She welcomes comments from readers through her social media.
Find and Follow Mara on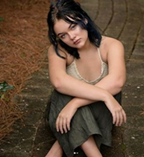 Kensington Norfleet is a high school student who has been dancing, modeling, and acting professionally for several years. This is her first published book. You can find out more about her work at www.KensingtonNorfleet.com or follow her on social media.
Find
Related Content: