Authors are a part of the creative arts. The pictures a talented writer can paint with words or music often invoke emotions stronger than a painting. It is a tool to bring a person into the sphere of influence to delight the senses and feed the soul.
My guest today is multifaceted in her talents. Not only have I read many of her stories, but I have heard her play guitar, podcast, sing, read poetry, and even bake cookies. This award-winning Texas Author is a gentle person who writes from the heart and her creative story ideas seem to have no chance of slowing down.
I've known Jan Sikes for several years, crossing paths at several book festivals and author events. She enjoys interacting with people, especially about her stories. I am excited to have Jan visit today and share her writing journey along with new works fans can find soon. Thank you Jan for visiting.
What a fabulous introduction, Rox! I am so honored to be here, and your kind words touch my heart.
Jan, I believe your initial stories were created due to an overwhelming need to tell a true story with fictitious characters. How difficult were these four stories for you to put together?
Those four books were definitely a work of love. Many times throughout the 25 years I was married to Rick Sikes, people would come through our home and, upon hearing a small part of our story, would say, "Someone needs to write your story." We always agreed. I thought someone else would, but I came to the realization one day that if someone else wrote the story, I'd have to tell them the whole thing. That was when I got busy, took some writing classes, and jumped in with both feet. I thought I could tell the story in three books, but it took four. Writing these were very therapeutic for me. Rick passed away in 2009, and I published the first book in 2013. These stories were not hard to put together. I knew the story. I just had to learn how to put it together in a way that would be compelling and entertaining.
Which of these stories is your favorite in this group?
Ha! Ha! That's like asking me if I have a favorite child. I suppose "Flowers and Stone" would top the list as it was the jumping-off place and beginning of the story. However, "Home At Last" won more awards than the others. So, it's hard to choose.
I enjoy your CDs that accompany these stories. How did you come up with the idea to offer them?
The CDs naturally went hand-in-hand with these stories as music is the overarching theme as well as the love story. And, they've been well received. Rick Sikes was a lifetime singer/songwriter and it seemed a good way to keep promoting some of his music after his death.
What occurred after the release of these stories that forced you to continue writing?
I'm not sure I'd use the word "forced," more like "inspired." I was challenged to join a short story writing competition that really launched my ongoing writing journey. I found that short stories were a fabulous way to explore writing in different genres. And they were more affordable to produce. My theory remains that as long as the story ideas keep coming, I'll keep writing them.
You write novels and short stories. Do you prefer one length over another?
I love both. Short stories offer quicker gratification both for the writer and reader, but the character and plot depth of novels cannot be achieved in short stories. So, it's an even contest, in my opinion.
Several of your short stories have won awards. Which of those wins delighted you the most?
The short stories that have won more than one award are truly outstanding to me. It doesn't mean those are better stories, it just means I entered them in more contests. I am so proud of those accolades!
Your short story ideas often come to mind from a song. How does that process work for you from song to a full story?
I'm not sure I know how to put the process into words. Sometimes I hear just a line from a song that will trigger a story idea, or sometimes it's in the song title, but once the inspiration hits, I jot it down and then let it simmer or percolate until I have the entire story formed in my mind. That's when I go to work writing it. I've had a few surprises that I didn't expect to pop up after I started writing the story, and that's always fun. 
Do your write your stories for different audiences, and how do you differentiate notification to those fans?
I don't write any of my stories for specific audiences. I simply transfer the story from the creative part of my mind onto paper. I realize that knowing your audience is imperative in marketing your work, but for me, it is not factored into the writing process. That comes later.
What is your favorite way to cultivate your fans?
I love in-person events. Those are my favorite, but also limiting. My blog is my next favorite way to reach more readers. I started blogging consistently a few years ago, and it has been a rewarding endeavor. When it comes to other social media platforms, I use Twitter and Facebook. I'm hit and miss with others. I think it's important to choose a platform (no more than three) and be consistent with putting out content. That is the most effective way to gain and keep fans.
Most of your stories are Indie published. For The White Rune Series, you used the Wild Rose Press, Inc. How did you earn the support of Wild Rose Press for your series?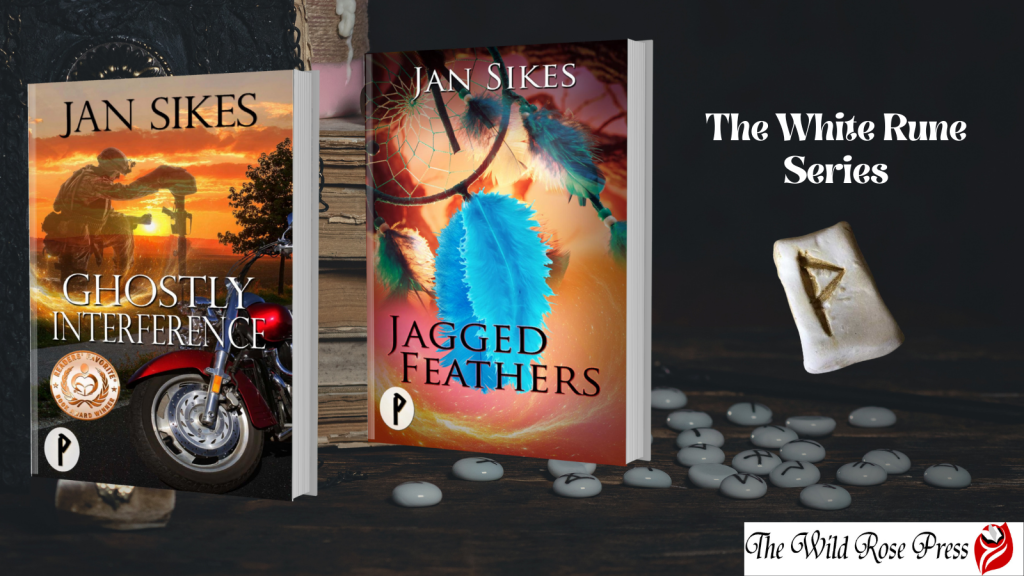 I got the idea for "Ghostly Interference" when I was in the middle of writing "The Convict and the Rose," book two of the true story series. The working title was "When Two Worlds Collide." I couldn't stop writing my current project, so I jotted down some notes and wrote the first chapter of the fiction novel, then put it aside until I finished the true story series. When I returned to it and finished the story, I wanted to avoid the expense of self-publishing another book. I was deep in the red with the ones I'd just published. So I decided to start pitching it to publishers. I pitched for close to three years before the Wild Rose Press picked it up.
Ghostly Interference, Book 1—released December 2020, of this series was a fascinating premise. I loved this story and posted a review. Where did you come up with the story idea?
The thread that ties all of the books in this series together is a single white rune that is passed from book to book. When I lived in Colorado in 2012, I studied a lot of metaphysical elements which included runes. So, it seemed like the perfect medium to insert a paranormal aspect into the stories. I also love characters that are total opposites—come from different worlds. Jag and Rena couldn't be more opposite, and they each had a lot to learn from each other.
How has working with Wild Rose Press changed the way to market your stories?
It hasn't changed anything with the way I market my stories. Wild Rose is a small publishing house, and while they offer some marketing support, it's pretty minimal. It's up to the authors to market their books. I'll just add that all traditional publishers, except for a small handful, have cut out a lot of their marketing support. It is up to the author.
When is the next book in this series going to be available for your fans, and can you share a bit with readers?
The second book in the series, "Jagged Feathers," has just been released! I am super excited to introduce Vann Noble and Nakina Bird to the world. They are such unique characters, and both share a love of creating art from things they find in nature. It is a romantic suspense. They are on the run from a powerful drug cartel that is determined to end their lives. Neither of them ever imagined the possibility of falling in love.
I just signed a contract for the third book in the series, "Saddled Hearts," and I anticipate a release date of September 2022.
Jan, this book is as captivating as Ghostly Interference. I was glued to the pages the first time I read it, and savored it a second time, catching additional nuances. My review on Jagged Feathers will post on this blog soon, but I do recommend folks get it now. It's a great standalone. I know readers who grab this one first, will get book 1 of the White Rune Series. Heck, I'm in line for Saddled Hearts. Visitors, check out the book trailer below.
You have a regular job, help with afterschool care for a couple of your grands, so how do you organize your day to release so much content?
Time is always a struggle. I work on my stories, marketing, visiting blogs, and other writing-related activities in the mornings. Also, it's not unusual to find me back at the computer when I return home at night. Weekends are when I feel like I can make the most progress.
How big a part is music in your life today?
Music still plays a huge part in my life today. I was fortunate to work for Buddy Magazine (a music magazine) until COVID took it under. My job was to interview music artists and write features. I loved that so much. Occasionally, I'll feature a music artist on my blog, but I find those posts don't gain much traction. It's not the right audience. Another big part of my life is music festivals. I volunteer at several each year, and others I just attend to enjoy the music and camaraderie. I have an extended music family.
What is an achievement you would like to earn?
I think this would be the same for most authors. I would like to actually earn a decent living from my work. To me, that would be most gratifying.
Do you read your reviews, and do they impact your writing?
Yes! I learn so much from honest reviews. Reviews are invaluable, and when I receive a raving review, it makes my heart sing! I take to heart any critique and make sure I don't make the same mistake twice.
I know you are an avid reader. Do you have a favorite genre you are drawn to or do you focus more on a specific author?
I do not have a favorite genre. I read everything. If a story is well-written and compelling, I'm open to reading it. I love supporting indie authors but have recently discovered the joys of reading mainstream authors via NetGalley.
How do you feel about having a social media presence?
I think it is an absolute must for any author. It's the world we live in, and if we want to have our work discovered by new readers, we must have a social media presence.
How much has your award-winning author sister influenced your writing?
My sister has been such a fantastic supporter and mentor to me on this writing journey, just as she was when we were growing up. We critique each other's work, and I value her feedback, as she does mine.
Your sister invites you to an author event in Phoenix because the singer is one of your favorites. You find yourself at a dinner table seated between this singer and your favorite author of all time. What would you like to learn from the singer?
I would prefer that the singer also be a songwriter, and I would like to hear their songwriting process and inspirations.
Who is the author on your other side and what book of theirs would you want to discuss?
If this has to be an author who is alive today, I would choose Colleen Hoover. I would want to discuss "Layla" with her. What a story! If it could be a deceased author, I would pick John Steinbeck and "Grapes of Wrath."
What is the next story your fans can look to see and when? A little sneak peek would be perfect.
The third book in The White Rune Series, "Saddled Hearts," will be released in late 2022. It concludes the series. Here's the blurb:
Maintaining the Layne Horse Sanctuary and playing music with his band gives Colt Layne almost everything he's ever wanted. Life is settled until a stranger shows up with unreasonable demands. Colt's world unravels when the man is found dead, and he's charged with murder. Someone has framed him, but who and why?
He needs answers that only his deceased grandfather can provide.
Sage Coventry can slip effortlessly between the living and the dead realms. When Colt consults with Sage, he gets more than messages from beyond the grave, as she breezes into his heart with sweet patchouli fragrance and tempting lips he longs to kiss.
The race against time to clear his name and save the ranch launches them on a mission that brings shocking revelations.
Where can folks find and follow you.
Website  https://www.jansikes.com
Twitter   http://www.twitter.com/JanSikes3
LinkedIn  https://www.linkedin.com/in/jansikes/
Instagram  https://www.instagram.com/sikesjan/
Amazon  https://www.amazon.com/~/e/B00CS9K8DK
Facebook  http://www.facebook.com/AuthorJanSikesBooks
Blog    http://www.jansikesblog.com/
BookBub  https://www.bookbub.com/profile/jan-sikes

Related Content: