By Rox Burkey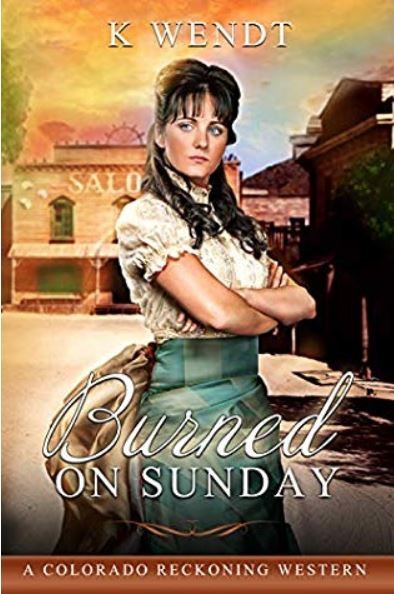 This charming insightful story is about a young sixteen-year-old woman, Lucy. Determined to get the life she wanted rather than simply being a governess or marrying well because of her family connections, she traveled from the East to Rock Springs, Colorado to educate small town children. Lucy arrives in town to find her money depleted due to natural issues on the trip West, and that the teaching role was filled. This forced her to consider the only  other position in town, a dancing girl in the local saloon. The saloon keeper, Matthew, made certain that dancing was the only service she performed but no one knew that.
Western life was very hard in small towns, especially for outsiders. Life in these times was centered on church, family, and carving out a business whether in town or ranching/farming. Success was measured very differently in the West than in the East. Lucy found the small-town gossip mentality difficult.
After working in the saloon for some time she became keenly aware of who frequented the saloon and the wives who weren't talking about it. After a Sunday sermon of fire and brimstone on the evils of a wife cheating on her husband, Lucy put a plan into place to break free of the double standards. Her plan puts her at risk, yet she learns she has friends and even a potential suitor.
The plot K Wendt has created is original in its focus on a young woman with the strength and tenacity to force change. In addition to Lucy, I enjoyed the character, Mrs. DeWitt as she was forced to hire Lucy and then actually cares for her well-being. This was brought out specifically here.
Mrs. DeWitt walked up the stairs to Lucy's room and knocked softly on the door. When Lucy opened it, Mrs. DeWitt noticed dark smudges on her hands.
"Everything all right, dear."
Lucy glanced down at her hands. "Oh, yes. I was just drawing." Lucy opened the door wider and stepped aside to let Mrs. DeWitt in.
"You draw?"
"Yes, ma'am," Lucy said, walking over to the table to clean up her mess.
Mrs. De Witt picked up the sketch Lucy had been working on. It appeared to be the horizon to the west of town.
Lucy, this is very good. How long have you been drawing?"
This segment really highlights the shift in the relationship of these women, which often occurs in life when we take time to learn about a person. Finding out that is the first in A Colorado Reckoning Western was great news. 
About the Author
K Wendt was born in a Texas town two hours from Corpus Christi. When she was 11 years old, her family moved to west Texas. The youngest of three children, she has one brother and one sister. K's love of family is very important to her.
K met her husband in choir class during her freshman year at Sul Ross State University, and they were married shortly after. When her first child was born, she decided to become a stay-at-home mom, but as the children grew older, she decided to work outside the home. K worked at Mother's Day Out, schools, a local bank, and a local shoe store. Wendt says she believes God has something in store for her with writing at this point in her life.
K is a driven author who writes in multiple genres including children's, poetry, and Christian fiction. She earned the Texas Association of Authors 2017 awards for Women's Poetry and Christian Fiction Romance for her books Beneath it All and Emma's Journey. Additional stories are in the works, so keep an eye out for this author.
Related Content: