***** Finding Your Way Home —– Review by Rox Burkey
Jinx Schwartz nails the end of season one with Book 9 of the Magnolia Bluff Crime Chronicles. Blue Bonet Texana Austin returns to Texas after her husband dies. She moved to the home and the land she inherited on Lake Burnet. The house brings back good childhood memories of when Blue spent time with her practical grandmother. On her first day, she gets adopted by a pup she names Toto.
Blue attended a year of high school in Magnolia Bluff and, like her mother, graduated. After graduation, she went to art school in Paris, France. She felt like an outsider during her Senior year even though folks in Magnolia Bluff thought enough of her to crown her homecoming queen. The friends she cultivated during high school who are still in Magnolia Bluff are better now than then. Her marriage was not happy in California, and after he died, she returned to Texas.
Blue heard from Handy, her remodeling expert, Toto belonged to a man living on the property as a squatter. He's discovered dead with a rope around his neck. An escaped prisoner is found dead beside the shack. Then a snap winter freeze unearths bones. Blue undergoes questioning by police and the FBI, who asks for a DNA test. She wonders if she related to the victims and if the murders are connected or if a serial killer is hiding in Magnolia Bluff.
The masterful character development is fast and distinctive. These are endearing people. You want to sit at Harry's and have a delicious coffee. The dialogue and banter are fast-paced and pure Texan country. The twists and turns keep readers guessing from one area to another to an unexpected yet perfect ending. You'll discover a cozy stand-alone mystery set in the memorable town of Magnolia Bluff, where each of the Underground Authors brings their brand of cozy to life for paging-turning fun. Readers grab this amateur sleuth women's fiction today. You're going to love it.
About The Author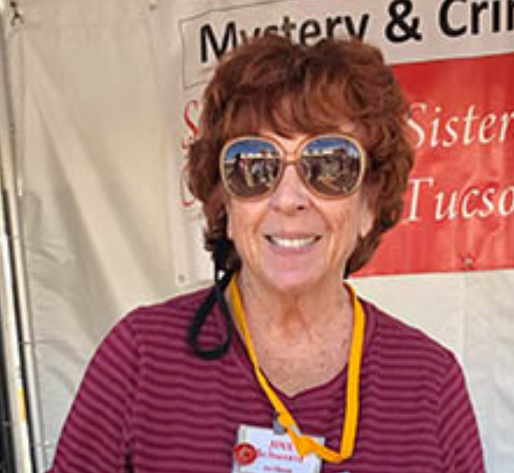 USA TODAY award-winning author Jinx Schwartz is a ninth-generation Texan who spent several years in Haiti and Thailand as a youngster, bouncing back to Texas between countries. She then went on to travel the world in a construction/engineering career, following in her father's steel-toed boots. Jinx and the love of her life lived aboard their boat in Mexico's Sea of Cortez for many years, but after losing her beloved Mad Dog (aka, Robert Schwartz) she is now a solo vagabunda on wheels, wandering around the US and Mexico in her RV, but now with a home base on a Texas beach.
Goodreads, BookBub, or any old where, as we say in Texas. Word of mouth is an author's best friend and is very much appreciated. Are you on Facebook? Be my friend at: https://www.facebook.com/jinxschwartz BookBub alerts my followers when I have a book featured with them, or a new release: https://www.bookbub.com/authors/jinx-schwartz If you are interested in getting updates on my books and my whereabouts, you can sign up for my newsletter at https://www.jinxschwartz.com I have great editors, but boo-boos manage to creep into my books, no matter how many talented people look at them before publication. Should you come upon one of these critters, please let me know, and I shall smite it with my mighty keyboard! Thanks! You can e-mail me at jinxschwartz@yahoo.com.
Related Content: